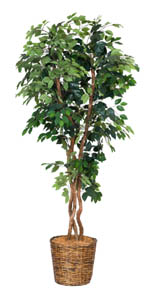 Great is the LORD and most worthy of praise; His greatness no one can fathom – Psalm 145:3
Everything that is alive, changes. It is how we know it is alive. A tree made from plastic or silk may be beautiful, ideally proportioned, perfect for a certain corner in the office; and it never changes. It is not alive. A live tree, on the other hand, grows. It moves, changes shape, and responds to its environment.
God is alive.
Perhaps you were taught, as I was, that God is "the same, yesterday, today and forever", and that He never changes. But He is very much alive. This is a compelling dynamic: God responds.
Understanding God
For since the creation of the world God's invisible qualities – His eternal power and divine nature – have been clearly seen, being understood from what has been made, so that men are without excuse. – Romans 1:20
Our first awareness of God happens when we awaken to the fact that He exists. The evidence is clear: there is a Creator. He is a higher power. He is the source of intelligence and established order. Understanding this leads us to believe in Him, and to fear Him.
We then discover more about God's character by contemplating: "What kind of being would create these things and this order?" There is a consistency to our world. The laws of nature mean we can predict consequences. The interrelatedness of all we can see and know is unfathomable. As we try to wrap our mind around it, we are led to admire this Creator.
We press in to learn more, and there is much more to learn. Through the millennia, some of the greatest minds among mankind have contemplated, considered and catalogued the various characteristics of God. They are codified in creeds and taught in catechisms. Even the very edge of this vast body of knowledge causes us to draw comparisons between this amazing God and ourselves. This leads us to reverence as we must admit we are nothing next to Him.
Relationship with God
"Men pour themselves into creeds, and God has to blast them out of their prejudices before they can become devoted to Jesus Christ." – Chambers: My Utmost for His Highest, 184
God desires relationship with each one He has created. The relationship cannot grow until we know Him, not just about Him. This involves the careful study of His motives and purposes. It is learned through the Bible, where He explains the reason behind His actions. It is also learned through our personal experience, as we interact with God and begin to recognize His patterns. The predictability of God's changelessness enables us to trust Him. It also helps us to recognize His "voice" so we are able to obey.
Our relationship with God grows to a whole new level when first we recognize that He has intentions toward us, personally. This is amazing love: that He would think kindly toward us. Only one response is appropriate, and that is to return His love. We become devoted to God through this act of love by surrendering our personal rights, sacrificing selfish ambition, and putting Him first in everything.
God of Exceptions
Now comes the most astonishing thing about God. He created the laws of nature, rules of the universe, and all order. He operates in predictable ways, according to those laws. He is perfect in His judgment and execution. He is changeless in His promises and character. The creeds and doctrines are exactly correct (in so far as we can understand them).
But, God is alive.
We know this by the way He moves and responds. He makes exceptions that confound our understanding of His rules. He does so on purpose, and for a purpose.
For example:
All have sinned and fall short of the glory of God (Romans 3:23) – except for those who are justified by His grace (Romans 3:24).

He sends rain on the earth (Job 5:10) – except when He withholds it from a town or field (Amos 4:7).

Blessings are poured out on those that obey His commandments (Exodus 20:6) – except for one like Job (Job 27:6).
Job's friends understood God and knew all about His character. They were quick to explain things to Job about sin and its consequences. They described God's perfect judgment. They were accurate in their assessment that God is right in whatever He does. But Job was an exception to the rules, and he learned about relationship with God through the encounter.
God Responds
This is the confidence we have in God: that if we ask anything according to His will, He hears us. And if He hears us – whatever we ask – we know that we have what we ask of Him. – 1 John 5:14-15.
Have you prayed to God with complete confidence, knowing that you are praying according to His revealed will? Have you claimed the promise of 1 John 5 and waited in faith for Him to deliver? Has this ever happened to you, and you find that God has made an exception?
Then thank God.
If the intelligent design of the universe were nothing more than an elaborate program or some force on auto-pilot then it would be constrained within its design. But God is alive. He has power real time. He exercises authority over all of creation, including His laws, for the benefit of those He loves. When we pray for a miracle, we are asking for an exception. When we pray for healing, we are asking for an exception. When we pray for forgiveness, we are asking for an exception.
God answers prayer. He is an exceptional God. Live with the sure knowledge that He responds to you, and you will often be surprised by joy.