To: Those interested in the mission of Master's Mind Ministry
I was not asked to write this letter. I asked Cal and the board of Master's Mind Ministry (MMM) if I could write it. The reason I asked if I could write this letter is that I suspect that there are many of you who would take the action I am about to propose if you only knew the situation. I asked to write this letter because I believe MMM has been formed by God to fill a need through Cal and Julie Tadema. I asked to write this letter in obedience to what I believe is a prompting of the Holy Spirit in my heart.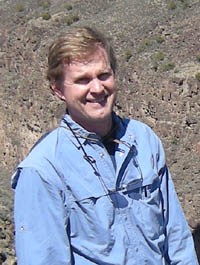 I met Cal a little over four years ago. My travel business had just lost its website designer and I received Cal's name as a prospective webmaster from two unrelated sources, one Christian and one non-Christian, the first of many providential nudges that has attended our relationship.
When Cal visited our office for the initial interview, it was clear that this was not simply a discussion about website design. Cal was there to listen. He asked probing questions about all facets of our operation and listened intently while I answered. He was not quick to propose what he would change or how he could impact our business; he listened and took copious notes. I don't know that I had ever seen anyone listen as well as Cal listens.
Shortly after we agreed to work together on our website, I began attending the Friday morning Master's Mind meetings Cal was then leading at Hockinson Community Church (HCC). These meetings quickly became one of the highlights of my week – a place where we talked about a wide variety of subjects related to leadership, business, relationship, God. These were practical forums where overused Christian platitudes would have sounded awkward and out of place. These were sessions mercifully free of spiritual posturing. We were just a bunch of guys drilling for truth, and Cal always had a question or model or concept for us to consider that usually added another tool to our drilling kit.
As you probably know, Cal was later called as associate pastor by HCC and began to dismantle his web design and marketing consulting business. This new assignment at HCC was a natural progression from the role Cal and Julie had already been filling at the church; lots of counseling and much effort directed at helping the church leadership and body understand and develop their mission and the vision for carrying out that mission.
Unfortunately, Cal's "drilling-for-truth" style and intentional approach to life was not universally accepted. Like many of you, I have watched the resulting conflict and the painful end of Cal and Julie's investment at HCC with a mixture of disbelief and dismay on the one hand, and wonder at the grace with which they accepted this dismissal on the other. Yet, as always, God has continuing plans. Cal and Julie are now free to take the ministry of wholeness they had offered the body of Christ at HCC and make it available to the body of Christ at large.
As you know, God has gifted Cal and Julie with something fresh and different. Over the past four years, Cal has become a trusted advisor and my friend. Personal Renewal Days, Intentional living, divine appointments, mission & vision, healing prayer, contemplative prayer, and a host of other practical concepts and tools for learning to love God, hear from him, and follow him changed the way I live and think.
I believe that Cal and Julie have been set apart to bring a much-needed message to the Church. The fact that you are receiving this email means that you apparently share an interest in that message. Obviously, this is a young ministry. It is without funding from a large church or parent ministry. Cal and I have joked that he is too charismatic for the Calvinists and too Calvinistic for the charismatics.
This, I believe, is one of the freeing characteristics of their ministry – the willingness to hear what God is saying without restricting his voice to one particular creed or dogma. In addition, however, this likely means that their funding will come primarily from individuals, at least in the near term.
In response to a pointed question, I learned last week that monthly giving is less than 40% of the MMM monthly budget, and that cash reserves will run out in September. Cal always understates facts like these. The first time I sat down to write out a check to MMM, I had difficulty in finding the address on their website. Because his focus is not on the money end of things, I had to point out to the former marketing consultant that he needs to make his address more conspicuous.
I agree with Cal that we serve a loving and omnipotent God who will provide all that we need, and all that Cal and Julie need. Perhaps, however, he will use us to meet the needs of Cal and Julie and enable the growth of MMM.
Though I have only spoken about their financial situation to Cal in passing, it seems clear that what is needed are monthly commitments from a number of people who believe in the work of MMM. One-time gifts are great, but the ministry needs the stability of regular givers.
If you share my appreciation for what MMM has been doing, and my belief in their potential for much more in God's time, I invite you to join me in committing or increasing your commitment to a monthly investment in MMM. Just drop Cal and Julie a note and let them know your plans so they can draft a responsible budget for the coming months.
Thanks for reading –
A fellow servant,
Dan Friesen
In case you need the address, it is:
Master's Mind Ministry
21811 NE 164th St
Brush Prairie, WA 98606