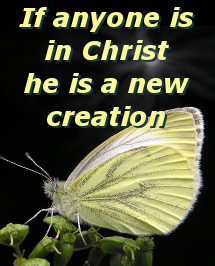 Therefore, if anyone is in Christ, he is a new creation. The old has passed away; behold, the new has come. - 2 Corinthians 5:17
I blame our culture. We have been taught since grade school that change happens slowly over long periods of time. Scientific evidence is presented to prove the point, and it just makes sense. In a lifetime one can observe the erosion of sandstone so it is common sense to project that same outcome over many lifetimes to something as hard as granite.
It is natural to assume personal development takes time as we grow and learn and apply our will to make improvements. On the other hand, a lack of attention tends to erode those improvements over time. And it seems to take less time to lose progress than gain it.
This kind of evolutionary thinking precludes the idea of a fundamental change and argues against miraculous healing.
I'm certainly not against incremental improvement, and I believe strongly in the body's ability to restore itself to health given the chance. These are gifts God put into our design. So we get smarter as we learn; we get stronger as we train; we fight off an infection; and these things happen over time.
However, if anyone is in Christ, he is a new creation. There is a supernatural aspect to this transaction, and I might as well state the obvious: There is no natural explanation for the supernatural.
A New Creation
And God said, "Let there be light," and there was light. - Genesis 1:3
The language of the creation story is simple, but conveys a powerful message. There was only formless void and darkness until God spoke, and then there was light. It describes a fundamental change in the environment. It is a dramatic scene that unfolds at the speed of light!
The original creation made something out of nothing. That's supernatural! A new creation is just as powerful and immediate, but (according to 2 Corinthians 5:17) there is something old that passes away and something new takes its place. Specifically, the old identity dies and a new identity is raised in its place.
In the New Testament the word "Behold" is used to communicate immediacy. It is an attention getting word to emphasize the change. Paul is saying that being in Christ is to experience supernatural creation, and immediately the new is revealed.
A man in his early twenties asked for prayer to overcome guilt and shame from some sinful choices he had made. His identity was defined by the consequences of that sin and he couldn't shake it. I acted as witness as he confessed and received forgiveness from God. The offenses of the sin passed away and behold, the new had come. I asked him how it felt to be forgiven.
"Bam!" he exclaimed.
We were sitting outside by a picnic table, and I was not entirely sure I had heard him correctly, so I asked him to clarify.
"Bam!" he repeated. "It's gone! Just like that, it's gone!"
I guess "Bam" is the new "Behold."
Miraculous Transformation
Since, therefore, we have now been justified by His blood, much more shall we be saved by Him from the wrath of God. - Romans 5:9
We are forgiven when we are justified by His blood. That means the penalty of our sin has been paid. My dad used to say that when you are justified it is "just as if" you had never sinned. The old identity that includes the effects of the sin is changed by a spiritual transaction.
We know by faith that the transaction is complete in the spiritual realm. Everything that must be accomplished to atone for the sin has already been done and we are justified. The sin no longer defines who we are. We are free to be the person God designed us to be.
The transformation is supernatural, and although the spiritual realm is unseen the change is immediate and permanent. We are a new creation. We have a new identity.
Our spirit conveys this newness to our soul. Like the spiritual realm, the emotional realm is not seen but is sensed through our mind, will and emotions. Our natural mind, subject to the fallen nature, may resist the supernatural truth. But it is certainly true, nonetheless. Our natural bodies are subject to the physical realm, including time and consequences. Even so, the truth of our newness is made evident in our bodies.
This is the essence of healing. We are immediately changed, miraculously transformed, from the inside out.
Behold the New
For by grace you have been saved through faith. And this is not your own doing; it is the gift of God, not a result of works, so that no one may boast. - Ephesians 2:8-9
Transformation in the natural order depends on your own doing. It is a result of works, through which you use your mind, will and emotions to affect change in your identity. It is expected to take some time, and regression is as likely as progress.
This is the essence of "self-help" programs and religions. Like evolution, one expects change to take effect and he hopes that the change will be for the better. The experts are able to explain cause and effect using natural laws and theories. Obviously there is no supernatural element to this approach.
Why does this matter?
I prayed with a man who had been a slave to sin for many decades. His life was a mess and the consequences of his fallen nature were obvious. When he understood the gift that God offered there was no hesitation. He confessed his sin and asked for forgiveness. I was witness as he received a renewed mind and freedom from addictions. He could not stop smiling. Behold (Bam!), the new had come.
A few weeks later I met with him and his wife to address her concerns about his past. She acknowledged that the change in his mind, will and emotions was dramatic, but she worried that he would slip back into his old ways. She wondered what they could do to protect against recidivism.
I asked if she thought the changes were supernatural, and without hesitation she said they had to be. I assured her that he was not healed of his own doing, nor was it a result of his effort. He was healed by grace. It is the gift of God.
Bam! He is a new man. You cannot explain it, but you can believe it.
I think this is now my favorite way to paraphrase 2 Corinthians 5:17:
So, if anyone is in Christ, he is a new creature. The old is dead and gone. Bam! the new has come. - 2 Corinthians 5:17 (CRT Paraphrase)