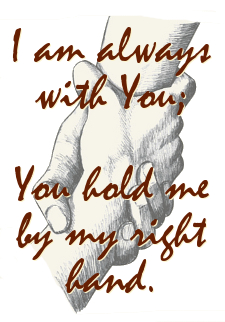 But as for me, it is good to be near God. I have made the Sovereign LORD my refuge. - Psalm 73:28
Many people struggle with loneliness. It comes from rejection and abandonment, and it causes deep pain. We were designed to live in community and to engage in relationships. When that is missing we struggle with spiritual, emotional and physical problems.
God, our Designer, invites us into relationship with Him. We may wonder why, since we have nothing to offer Him. But this invitation isnít based on a trade; itís offered as a gift. He just wants our friendship.
His everything is enough to complete any lack in us. When we are filled with His friendship, we can offer the same kind of invitation to others: just as a gift. The invitation has been made. It is our choice to accept or decline. We receive the gift when we acknowledge God and raise our hand to Him. Imagine His warm grip as He welcomes you.
Companionship
Yet I am always with You; You hold me by my right hand. - Psalm 73:23
Best friends hold hands. It is a sign of familiarity and respect. It is a physical representation of being joined together to share time and space. There is a bond that forms through that connection.

Jesus touched people when He walked on the earth. He placed His hands on children to give them a blessing. He laid hands on many so they would be healed. He touched the body of a young man and raised him from the dead. He remarked about the healing power that transferred from Him when the woman reached up to the hem of His robe. There is power in touch.

The Seventy-third Psalm was written by Asaph, a man with an incredible gift for worship. When he proclaimed that the Lord holds him by his right hand he declared a prophetic truth. This promise can be claimed by you and me.

The temptation to feel rejected or abandoned is completely lost when my right hand is being held by the LORD God. My inexperience in building relationships with others is of no consequence when my right hand is in His. My temptation toward loneliness evaporates at the thought of walking along, hand in hand with my Creator.

No matter what else goes on in my life, Iíll never walk alone.
Guidance
You guide me with Your counsel, and afterward You will take me into glory. Psalm 73:24
My wife and I often walk hand in hand. In thirty-nine years of marriage we have logged a lot of miles together this way. Sometimes our grip is light and our connection subtle, but I am quickly aware of the slightest change in pressure. A quick squeeze draws my attention to something that has caught her eye, or it may just be a nonverbal reminder of the joy we share being together. At other times our grip is quite firm when I give her a hand over a tough spot or she steadies my balance in a precarious place.
When God has me by the right hand it works the same way. He guides me with His counsel, sometimes with a subtle change in pressure and at other times with a firm grip. I find comfort in His grasp and I take courage because of the connection. The communication is easy and effective when I pay attention to Him.
The second part of this verse is especially comforting: and afterward You will take me into glory. He will hold my hand as I cross over into glory! This is a metaphor for dying. There is no reason for fear, even fear of the unknown, because I know what it feels like for Him to hold me by my right hand. It will be as natural as taking a breath on earth and exhaling praise in heaven.
No matter what else happens, Iíll never lose this friendship.
Protection
ďBecause he loves me,Ē says the LORD, ďI will rescue him; I will protect him, for he acknowledges My name.Ē - Psalm 91:14
Look at the size and scope of this promise! The LORD says that He will rescue and protect me because I love Him and acknowledge His name. When I read that verse, I wondered: ďAre You talking to me?! And, if so, can I get this in writing?!Ē Of course, He is talking to me (and you), and He put it in writing.
God is a refuge. He creates a safe place by His presence. His holiness keeps all evil from approaching and His love pours blessing on all that are near. This Psalm is filled with detail about how God protects. He is with us in trouble, delivers us from evil, and honors all that trust Him. He will command His angels to guard us, even in the physical realm.
I am safe from temptation when He holds my by my right hand. Anytime I feel temptation creeping in, I look at what is in my right hand.
When I reach for anything that is a distraction from my relationship with God then I am in harmís way. But when I reach up to Him I know I will be safe.
When I am holding on to a security blanket of my own choosing then I am misplacing my hope. But when I reach up to Him I know He will protect.
When I am holding on to a grudge or root of bitterness then I am bringing poison into my system. But when I reach up to Him I know He will give me compassion and help me forgive.
When I am holding on to my rights or self-justification then I know my arguments are going to fail in the court of heaven. But when I reach up to Him I know He has given mercy and forgiven my foolishness and sin.
Practice
You will not fear Ö it will not come near you. - Psalm 91:5-7
It takes practice to become familiar with walking hand in hand with God. Holding hands with a friend or loved one becomes increasingly comfortable, and it is the same with God. Before long, you will recognize the feeling and anticipate the joy of the relationship. But donít worry; no matter how long you walk with God, He can still surprise you.
One of the obvious benefits of a meaningful relationship with God is that you will never experience loneliness again.
The other benefit is that you will not fear. With God as your refuge nothing that you would fear can come near you. The Psalmist describes some common fears: pestilence (sickness), terror of night (anxiety or panic attacks), arrow by day (war), plague (spiritual warfare), and death. These are the things that will not come near you because He will save you.
Verse seven says that ďa thousand may fall at your side, ten thousand at your right hand, but it will not come near you.Ē That means we live by adjusted actuarial tables. Our experience will be different than those of the world.
If we trust logic, actuarial tables, risk management and other ways of the world it will lead to worry, fear, self-protection, withholding, and defensiveness. We will love one another begrudgingly and be hindered from the work of the Kingdom.
If we love and trust Him we will live in fearless freedom with confidence and courage. We will hold nothing back. We will love one another with reckless abandon, and actively participate in the Kingdom.
Walk hand in hand with God and you will walk in shalom. You will be a loving friend to others, just as He is to you. Friendship is a gift you can offer to those that have nothing to offer you but relationship. Be a loving friend.
Practice the presence of God daily. Use your quiet time to hold hands with Him. Meditate on His words and speak to Him as a friend.
As a bonus, pray with someone else that has experienced rejection or abandonment. Watch their loneliness melt away as they discover the invitation to offer their right hand to the Lord God.