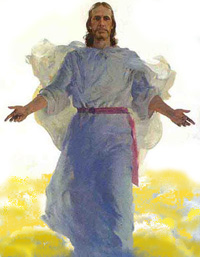 "I will restore to you the years that the swarming locusts have eaten …" – Joel 2:25
A woman asked for prayer that her painful life would be changed. She had struggled for over twenty years with feelings of worthlessness and rejection. God healed her at the source of those feelings and gave her a new identity.
"Oh, I thought I was being rejected, but that's not true at all!" She said, as she accepted the truth God gave her.
I wondered how she would feel about all the years she lost to those feelings. Amazingly, she had no remorse. Her immediate transformation was enough to cover over what might have been.
When God transacts business, He makes things right. He restores the years that the locusts have eaten.
Healing Restores
"And between the throne and the four living creatures and among the elders I saw a Lamb standing, as though it had been slain …" – Revelation 5:6
Healing is when God redeems a sin event and converts it to His perfect purpose.
Nearly two thousand years ago an innocent man was executed at the hands of a corrupt government and religious organization. This is the most egregious sin event of all time, and it convicts everyone of their sinful nature. But this despicable act of hate was redeemed by God. He converted it into the most amazing act of love. According to His purpose it became the way for sinful people to be in relationship with a righteous God.
God redeemed the event. He did not ignore it, overlook it, minimize it, or make excuses for it. The scars, evidence of the event, became the celebrated symbol of love instead of a testimony to sin. A time will come when everyone will see how God redeemed the event.
The woman (mentioned above) had been living out the identity of worthlessness and rejection for twenty years. During this time she made many bad choices. She rejected others in her fear of being rejected. She failed in the things she did, either by sabotaging her own efforts or by giving up. Sin compounded upon sin as she attempted to fill the void in her life. You see, God had created her to be worthwhile and accepted. She was transformed the moment she understood that.
"I see how my identity led me to make poor choices." She said. "But not anymore! Now, I'm free from all of that, and I really feel like a new person. From now on I can be the person God intends for me to be." God had healed her, and to her it was worth the wait.
Healing Repays
"Who will not receive many times more in this time, and in the age to come eternal life." – Luke 18:30
We are unable to live according to God's purpose when we are in slavery to sin and sin events. But through forgiveness and healing we are equipped to partner with Him. This union brings immediate and future rewards.
A man I know had lived a life of deception. He was a driven achiever that had earned worldly success, and people were drawn to his leadership. But his motives were self-referential. His choices became more and more aggressive, destroying himself and others.
Through forgiveness and healing, God redeemed him from that life. You see, God had created him to be a leader. He was transformed as soon as he surrendered his motives and accepted God's standards.
Jesus taught the disciples that a sacrifice for the Kingdom would be repaid many times over in this life, and also in eternal life. This redeemed leader is achieving far more than he ever imagined possible. Retroactively, God took his experience and abilities that were gained for the wrong reasons and converted them for His purposes. The rewards are much greater, and they will last.
There are times when God heals a person after years of suffering, and it turns out that it has prepared them to comfort others. Some physical or emotional issues are the result of living in a sinful world. God may allow it in a person's life, even if it is not the result of their own sin. Even so, it can be useful for His purposes.
A woman had struggled with physical pain for many years, often asking God for healing. In the struggle she became a friend to others that were also in pain. She understood how pain causes limitations, emotional roller coasters, and attitudes. Yet she contended for healing.
God chose to heal her. From a human perspective one might ask why He waited, and what was to become of all those years gone by. But God healed her retroactively. She believed that He had answered her prayer and rewarded her faithfulness. During those pain-filled years she had drawn closer to Him and others with chronic pain. She began to encourage them with her testimony. Supernatural peace came to her, and she knew it was according to God's purpose that she wait.
Healing for Eternity
"He will wipe away every tear from their eyes, and death shall be no more, neither shall there be mourning, nor crying, nor pain anymore, for the former things have passed away." – Revelation 21:4
Our paradigm of linear time assumes some sort of mathematical equation to make things fair, as if twenty years of pain or loss should be compensated by some equal or greater number of years where that is not the case. But God operates in eternity. This is a significant paradigm shift.
C. S. Lewis wrote: "They say of some temporal suffering, 'No future bliss can make up for it,' not knowing that Heaven, once attained, will work backwards and turn even that agony into a glory." (The Great Divorce, 1946). The promise of heaven is certainly enough to make up for anything.
Do you know of someone that made peace with God on their death bed after living a life of sin and selfishness? They've been healed retroactively. God accepted them and redeemed their entire miserable life, unconditionally. He converts all their sin events and causes them to be a testimony to His character: lovingkindness. I believe this forgiven sinner has no regrets.
Eternal life is not a consolation for the life we have lived, but a restoration of the perfect life God intended us to live.
For Relationship
"And we know that for those who love God all things work together for good, for those who are called according to His purpose." – Romans 8:28
Relationship with God starts and never ends. Through forgiveness and healing we are equipped to partner with Him. It is the way by which we can be made righteous and be in His presence. When we partner with God, He provides the power and direction. The rewards are magnified, and with Him in control the rewards will last forever.