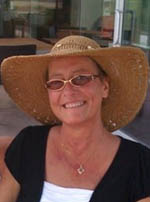 Therefore we do not lose heart, but though our outer man is decaying, yet our inner man is being renewed day by day. – 2 Corinthians 4:16
The apostle Paul articulates the dynamic tension of dangling on the thread of life between two worlds: the temporal and eternal. The temporal world is what we see and experience through our outer man. It is a world of groaning and decaying, influenced by the curse of sin. The eternal world is what we see by faith and experience through our inner man. It is a world of anticipation and renewal.
How are we to live and navigate between these two realms?
Paul describes the process of shifting our weight from one foot to the other, desiring each for different reasons. We see the transfer from our physical perspective in the passing of a child of God. Through faith we can see the same from a spiritual perspective.
Longing to be clothed
Ever since Adam and Eve were banished from the Garden of Eden mankind has felt the inner urge to "go home". Nostalgia drives us to our past, but that doesn't fill the need. We search for supreme contentedness in our present life, but it eludes us. We dream about the perfect future. But, we can't escape the longing. We were designed to enjoy uninterrupted relationship with our Creator.
We sense that we are missing something.
We are not presentable in our current condition. It is as if we are naked and need yet to be clothed with heavenly garments. Our physical body is like a tent, but with age its condition is worsening. We would like to make changes but the current trend is downhill, and that's the wrong direction.
We experience pain and suffering as a constant reminder of the condition of our outer man. The pain is a consequence of sin, but it serves a godly purpose. It sharpens our desire and focuses our resolve. First, it drives us to overcome sin in the flesh. Ultimately, it makes us keen to leave the flesh and be resurrected with Him.
Eternal Perspective
… for the things which are seen are temporal, but the things which are not seen are eternal. – 2 Corinthians 4:18
We walk by faith, not by sight. The things which are seen are in the physical realm. When we spend our time looking at what we can see it limits our perspective to the here and now. We can easily be overcome by the decaying world, consequences of sin, and reasons for groaning.
The things that are not seen are eternal – they are in the spiritual realm. Except through faith, we have not seen God or heaven. But we have confidence through our faith that the same God that raised Jesus from the dead will also raise us to be with Him.
Clothed with power
And behold, I am sending forth the promise of My Father upon you, but you are to stay in the city until you are clothed with power from on high. – Luke 24:49
Just before ascending into heaven, Jesus told the disciples that they would be clothed with power from on high. The older translations use the word endued, which means to be clothed but also has the connotation of being wrapped up in something. Jesus was speaking of the Holy Spirit, also known as the Comforter. Picture that: wrapping yourself in a comforter. Surrounded by the eternal, you are no longer naked.
This Comforter is also our confidence. God gave us the Spirit as a pledge or deposit, guaranteeing that He has found us acceptable in Him. We know it by the peace that passes understanding, and by the faith that comes through that peace.
How do you know you have the Comforter? You are empowered for the very purpose for which God created you. You are being renewed day by day, to be pleasing to Him. You find that He empowers you to do good deeds while in the body. By faith you know that you will be rewarded according to what you have done. By faith you also know that He has provided the power for those deeds.
Presentable
Now to Him who is able to keep you from stumbling, and to make you stand in the presence of His glory blameless with great joy, … - Jude 1:24
God Himself is able to keep you from stumbling and to make you blameless in His presence. We are clothed with the Spirit and presentable in His sight. He bids us welcome to enter His rest. Is it any wonder that He orchestrates the dynamic tension of our current circumstances so that we are of one mind with Him? "Thy will be done, on earth as it is in heaven."
Personal Note:
My dear sister Laura went to be with the Lord last Saturday. Even as her body decayed from cancer, she was being renewed day by day through the Spirit. For several years she participated with God as He did miracles through Acres of Diamonds. Now she has been raised with Christ. These thoughts are prompted by 2 Corinthians 4:14 through 5:10.