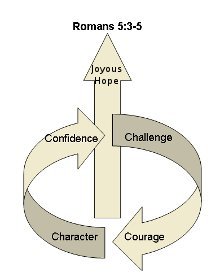 Be joyful in hope, patient in affliction, faithful in prayer. - Romans 12:12
Resistance training builds strength and stamina. When muscles are pressed into service and required to exert great effort they become strong. A well designed training program uses aerobic and anaerobic exercises in a strategic way to gain a strength advantage. The body becomes more effective and useful as a result.
There is also a way to build hope. When you press your attitude into service, especially under strain, it becomes strong. A well designed conditioning program takes advantage of a ready supply of adversity. The mind and soul become more effective and useful as a result. It builds your capacity for hope.
You can build a customized program to become more joyful, patient and faithful.
Rejoice in Trials
Consider it pure joy, my brothers, whenever you face trials of many kinds, because you know that the testing of your faith develops perseverance. - James 1:2-3
The first thing to do in hope training is to consider trials as pure joy. Does this require an attitude adjustment for you? A naturally pessimistic person tends to focus on the worst-case outcome of every trial and tribulation. That needs to change. A naturally optimistic person tends to minimize the trial, looking past it with rose colored glasses. That needs to change also. Trials and suffering are beneficial when we use them to build our faith and hope. This is done through a strategic training plan.
When a challenge is faced it builds a person's courage. As that courage grows it develops character. That proven character builds confidence. Increased confidence allows the person to face greater challenges. This training cycle becomes the method by which joyful hope is attained.
Challenge
A strategic training plan chooses its challenges wisely. The objective is to face challenges successfully, building a winning attitude. Facing an easy challenge does little to build strength. Losing in the face of an insurmountable challenge creates an attitude of defeat. Careful selection presents a worthy challenge, one that requires true effort to overcome. Then as a winning attitude is established, incremental steps can be taken to increase the challenge level.
Consider the cost of losing. Ask the question, "What's the worst that could happen?" If you are will to accept that eventuality, then press on against the challenge. Be careful that your assessment is accurate. If in a "doom and gloom" scenario you over-emphasize the worst that could happen, you may never face a worthy challenge and achieve a worthy win.
"... we also rejoice in our sufferings, because we know that suffering produces perseverance; perseverance, character, and character, hope." - Romans 5:3-4
Courage
Courage comes from within, it is the attitude that gives rise to perseverance. Are you able to stand against a challenge, not out of stubbornness, but out of conviction? That is courage. It is a willingness to take a risk as a calculated and intentional act. It enables someone to take a stand, no matter what.
The amount of courage you have is measured by testing. You know how much you have when it is compared to the size of the challenge it has allowed you to face. This is why it is important to choose your challenges well. Your courage is already inside you, and your immovable stance proves it.
Character
Your true character is the substance behind your courage. It is the foundation upon which your strength comes, and it is evident under stress. Your character is built on your values and beliefs, which are the result of the conclusions you have drawn from observations of life around you. It represents who you really are; your true identity. Flaws in your character show up in stark contrast to the character of God, in Whose image you are created.
The strength of your character is evident as you face great challenges. In the midst of the trials and tribulations, a strong identity is resilient but unchanging. A worthy challenge will manifest convictions and expose weaknesses. Peel away the values and beliefs that shift under pressure and all that remains is rock solid. The character of God is the perfect standard, and your foundation is at its most stable when it mirrors it.
Confidence
Unshakable confidence is the ultimate result of strong courage and tested character. Your proven values and beliefs are based on what you believe to be true. These convictions remain strong under pressure. They withstand worthy tests, and are reliable. Despite the opinions of others, or indications to the contrary, you can trust them. You are absolutely certain in your heart and mind.
As courage and character provide inner strength, confidence projects it into the future. This is apparent in decision making. If the opposite of confidence is "wishy-washy", then in great confidence you would make decisions that are quick and certain. This can happen when your standards (values and beliefs) are stable and well defined. Accurate assessment of the truth leads to trustworthy decisions.
Hope
Hope is the anticipation of a joyous outcome. It is a sure conviction of what will be, though it is currently not seen. It is measured in perseverance, or endurance, in the midst of adversity. More than mere optimism, hope is based on the character of God and the conviction that He has a preferable future in store for you.
Build your joyous hope. Choose your challenges wisely so your courage, character and confidence grow. If you are new to this training program, start with a challenge that you have about an 80 percent chance of winning, and successfully meet that challenge. Then increase the resistance to 60 percent and add to your courage. Soon you will be able to accept challenges that you are as likely as not to achieve. Next, cross over to challenges that you are less likely to win (say a 40 percent chance) and take your courage out for a test drive. Like physical training, increase the resistance and frequency of your "reps". Push yourself beyond to see your hope and faith really grow.
With man this is impossible, but with God all things are possible. - Matthew 19:26
As your training and strength progress, you will be more comfortable working in the "higher hope" zones. As your character becomes more like God's, you will have confidence in more and more things. The giants of faith are those that know all things are possible with God.
Share Your Hope
There is a great need in this world for hope. Many people are desperate for hope because they don't know how to build it. Some have no idea what to do. Others attempt to build hope through the power of positive thinking or other techniques. Sadly, their best is limited by their own flawed character. Unable to build hope, they are overcome by adversity. Pessimism is rampant.
Not so with you. In this hopeless world, always be prepared to give an answer to everyone who asks you to give the reason for the hope that you have. God redeems adversity as a tool to give hope and to produce joyous hope in you. Introduce that joy to someone today.