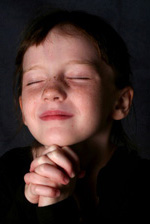 The disciples were amazed at Jesus' prayer life. They wanted to learn how to pray like Him. So He taught them (Matthew 6 and 7) and He showed them (John 17). His prayer was powerful and effective. It changed things.
"Ask and it will be given to you … For everyone who asks receives." This is a pretty simple instruction from Jesus (Matthew 7:7-8). Jesus asked. He asked God, the Father. Knowing that God is sovereign and omniscient, He asked.
Have you wondered: "If God already knows what we need and He's going to do what He's going to do anyway, why bother praying?"
In His Will
"And this is the confidence which we have before Him, that, if we ask anything according to His will, He hears us. And if we know that He hears us in whatever we ask, we know that we have the requests which we have asked from Him." – 1 John 5:14-15

We have a powerful promise to claim: if we ask anything according to His will then we know that we have what we asked of Him. It should be noted that the first of the two conditions is that we ask. There are some ways in which asking helps us make our request according to His will.

Prayer involves our whole being in the spiritual, emotional and physical realms. According to Matthew 6:6, we pray to our Father who is in secret (the spiritual realm). Our desire begins in the emotional realm as a feeling, and then it takes shape in our mind as a thought. As we articulate it, it enters the physical realm where it can be assessed and revised. Each transition between realms (prayer, feelings, thoughts and words) serves to pattern the request after His will.

God also provides us with assistance as we pray. The Holy Spirit intercedes for us, helping us form our requests and modifying our desires. He responds to our invitation and we learn the will of God by listening to the Spirit through our spirit (Romans 8:26).

When we ask God, we are able to listen to and recognize His answer. The young prophet Samuel heard the voice of God three times, but did not recognize it. He was coached by Eli, and then asked he God to speak. Immediately he was able to hear and recognize the voice of God – receiving instruction and warning. God wants us to ask because it prepares us to listen.
Believing and Receiving
"And all things you ask in prayer, believing, you shall receive." – Matthew 21:22

There are many places in the Bible that speak about the role of faith for getting your prayers answered. Jesus taught that you will receive all things you ask for in prayer according to what you believe. There is a clear link between your belief system and your ability and willingness to receive.

Some people interpret this promise as conditional: "if you believe." This assumes that either you do or you do not believe that God will grant your request, and His willingness to do so is conditioned upon, or at least impacted by your level of faith. I understand this promise as open ended: "what you believe." This assumes that you do believe something, and takes away the issue of "how much faith" you do or do not have.

"Therefore I tell you, whatever you ask for in prayer, believe that you have received it, and it will be yours." – Mark 11:24

Consider the promise as a mathematical formula: believe equals have. You believe something and therefore you have it. When applied to the present tense this is called awareness; when applied to the future it is the prayer of faith. Our confidence in prayer comes from what we believe to be true, and the more we have the mind of Christ the more accurate our belief system will be. This is the definition of asking "in His will".

The reverse could also be true: have equals believe. Therefore, what I have is the result of what I believe. I should interrogate what I believe when I realize that I have something I don't want.

In either case, the role of asking in prayer will bring to the forefront this combination of condition and belief. If I am asking God to remove something from me, it can be accompanied with the request that He renew my mind. If I am asking God to provide something for me, it can be accompanied with the request that He help my unbelief – another way to renew my mind. By listening to my "ask" I can get to the bottom of my beliefs.
Glory to The Father
"And I will do whatever you ask in My name, so that the Son may bring glory to the Father." – John 14:13
The role of asking is an act of obedience. God longs for us to verbalize our thoughts and feelings, our desires and hopes, our awareness and questions. It brings Him pleasure when we are in relationship to Him in that way. Our desire is to know God better, and to be known better by Him. Like any relationship, this means communicating. We can communicate with God in the spiritual realm, but also the emotional and physical realms.
When we ask God, making our request known to Him, it puts us in a more strategic place for acknowledging Him as our provider. Our human nature wants to take credit for everything good around us. If God provides for our needs before we ask, it is more likely that we will assume that the need wasn't very great or that we were particularly skillful at fulfilling it. (I am speaking from personal experience here.) When I make my desires known to God through prayer, and the request is as specific as possible, there is no question that it is God who answered the prayer. This results in my rejoicing and His glory.
Ask.
"You may ask Me for anything in My name, and I will do it." - Jesus