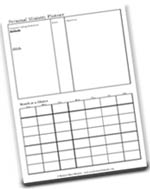 One of the most effective ways to develop your personal ministry is to intentionally manage your current life. Every decision you make, large or small, either contributes to discovery or takes you further away from your God-given purpose. Care must be taken so your life is consistent with your values and passions.
A personal renewal day is a time dedicated to the purpose of sharpening your game. It is a deliberate activity that brings you into greater awareness of God's call on your life. Anyone can do it, and the rewards are huge.
Effectively use personal renewal days and your life will change.
Preparation
Anticipate your personal renewal day and prepare properly for it. You should be well rested, well fed and in a contemplative frame of mind. Manage your environment to control outside influences and increase your opportunity to hear from God. Practice will help you determine if that means you need to schedule a time away from the home or office. Experience will also help you decide if you need to schedule a full day or multiple days to get it done. It is important enough to warrant your full attention and investment.
Print off a blank Personal Ministry Planner to work on. You can download as many copies as you need from our website, or create your own form that fits your style. Gather your goals and objectives, performance metrics, calendar and to do list, and any other detailed information you will need for decision making. If this is your first personal renewal day, don't worry. It gets easier with practice.
Set Your Heart
Begin with a time of prayer and meditation. Dedicate your thoughts to the Lord. Read the Bible, especially any scripture that confirms your calling. When you meditate, listen for His voice, leading and prompting. When you pray, ask Him for truth and help. Relax and allow your mind to become fertile ground for the Lord. When distractions come, take care of them so you can focus. Sometimes that distraction is the conviction of the Holy Spirit. Deal with it so you can move forward.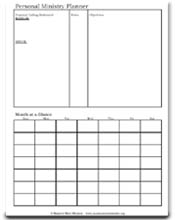 Now you are ready to work on your personal calling statement. It comes in two related parts, your mission and vision.
Mission
Your mission statement is a sentence or phrase that answers the question: "Why did God create me?" It identifies your purpose for being and will take into consideration your core values and deepest passions. Your mission statement becomes fine tuned as you live it out, so feel free to refine it every time you have a personal renewal day.
The general purpose for all of God's creation is to bring Him glory and the original purpose for all mankind is to be in eternal relationship with Him. If you need a starting place, you can use the Westminster Shorter Catechism answer: "The chief end of man is to glorify God and to enjoy Him forever." Personalize this statement with your core values and passions.
Vision
Spend some time imagining what it will look like to be living out God's call on your life. Write your compelling vision statement in one or two sentences that describe this preferred future. A three to five year timeframe works for most people because it is far enough in the future to allow for big changes yet close enough to imagine clearly. Make adjustments to your vision as you grow. Your vision statement will be consistent with your spiritual gifts, strengths, values and passion. It is your dream. It will excite and motivate you. When you share it with another person they will recognize your enthusiasm.
Roles and Objectives
Make a list of the roles you have at this time. The more comprehensive this list, the better your planning will be.
Start with your most significant and defining role. This is the one that tends to take up most of your time and attention, such as your job. To the right of that role, make a list of objectives you should accomplish to be effective in this role. Objectives can be goals, obligations, responsibilities and "to do' items. For the sake of focus you may want to limit these to the important things you should do during the next year.
Do the same for each of your other roles. Remember such important roles as spouse, parent, volunteer, mentor, or student. For each role there should be one or more objectives. Consider carefully the roles and objectives you have listed in light of your Personal Calling Statement. Are there any roles that are inconsistent or in conflict with your mission and vision? How about your objectives? By identifying potential or glaring conflicts you can make choices that will reduce their impact on your life.
Time Management
The next step is to look ahead by entering the dates for the next seven weeks in the "Month at a Glance" table. This part of the planner allows you to visualize and prepare for your objectives, so write in any deadlines. Next block out time for special events, both for the time they will use and any preparation required. Schedule your next Personal Renewal Day. Then fill in your recurring appointments, such as small group meetings and other regular events. The purpose of this exercise is to help you prioritize your objectives; identify pockets of available time, and so you get a feeling for the urgency of the deadlines.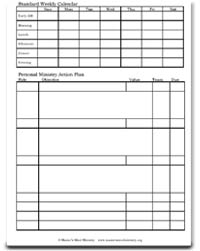 The second page begins with a Standard Weekly Calendar. This tool is to help you arrange your disciplines and regular events for maximum benefit. Write in your weekly activities that are set and can not be changed. Then enter the meetings or activities that include the most people, since they are the hardest to change. Next allocate blocks of time for your high priority activities, especially during your most effective time of day. Finally, fit in the lower priority items and disciplines between the cracks. Leave some holes for emergencies and divine appointments.
Strategic Goal Management
The Personal Ministry Action Plan is an itemized list for accomplishing the most important objectives from the first page. Prioritize your objectives according to their importance for this seven week period. There is room to list the top seven, with the first three considered in greatest detail.
Write down the role to which the objective is assigned. Use a descriptive name to identify the goal. State the core value that is expressed by completing it, the team that will help you accomplish it, and the due date. For each of the first three objectives include the steps you will take to make it happen. This helps break down the goal into strategic and manageable parts. Incremental due dates and task-specific teams can be identified when appropriate.
Review
Look over your Personal Ministry Planner to see how consistent your calendar and objectives are with your personal calling statement. Seek guidance from God about how to adjust your obligations to conform to His ministry for you. Thank and praise Him for the opportunities He has given.
Keep your worksheets in a conspicuous place so you can refer to them regularly. You will find that your life begins to look like your ministry and you will be conformed to the likeness of His Son.
For those God foreknew he also predestined to be conformed to the likeness of his Son, that he might be the firstborn among many brothers. – Romans 8:29