Focus 1330
Equipping Christian Business Leaders
Friday 6 AM - 7:30 AM
Vancouver Pillar Church
7701 NE Ward Rd
Vancouver, WA 98682
Come Join Us
"Let us go up at once and occupy it, for we are well able to overcome it."
Caleb spoke these words to all the people of Israel as they were considering the Promised Land. The spies had come back with a unified report: the land is good and there are giants. But there were conflicting recommendations.
When you are facing giants, do you look at your circumstances in view of God's promises? Do you believe you are well able to overcome?
If you are unable to join us, you can keep track of our topics and conversations through our Friday AM Blog .
Focus Your Attention
The dictionary defines focus as a "central point, as of attraction, attention, or activity." It has to do with the thing that directs your awareness or the object of your attention. In the case of Caleb, he was encouraging the Israelites to put their attention on the promise of God. God had said that He would give them the land and that He would drive out the Caananites before them. In light of this fact the giants are inconsequential.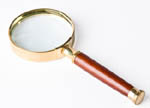 What captures your attention? Is your field of view taken up with images of barriers, hurdles, challenges and reasons to doubt or fear? Perhpas it is our human nature and the desire for self-preservation. Exercising caution is something we are taught. When we experience pain, the lesson runs deep. After a spectacular failure, or in anticipation of one, our perspective can become focused on "I'll never do that again!" Or we might spend a great deal of effort confessing all the things we can not do.
Caleb challenged them to renew their minds. It is as if he said:
Let's talk about what we can do!
Let's consider what God has promised He will do for us!
We can do all things through Him that strengthens us!
We are well able to occupy the land.

Live in God's Promises

God has made promises to us as His adopted sons and daughters. We have been made joint heirs with Christ. The Father of Lights gives us every good and perfect gift (James 1:17) so that we are equipped for the works of service that He has prepared for us to do (Ephesians 2:10). In fact, I challenge you to renew your mind:
Let's talk about what we can do!
Let's consider what God has promised He will do for us!
We can do all things through Him that strengthens us!
We are well able to occupy the land.
Since this is true, it is time to get a little victory under our belts. It is time to take these promises out for a little test drive, and see what they can do. What if God is just waiting for us to get out there and rev it up a little bit?
I recently had this discussion with a couple of like-minded Christian business people, and we decided to help each other to live this out. We're going to get together on Friday mornings and encourage one another. If you are in this area, please join us. If you are not around here, talk to me about getting a similar group together wherever you are. It's time for a little encouragement (and fun).
Focus 1330 - Vision for Market Place Ministry
Focus 1330 is a ministry that encourages believers in the business community to continually be focused on the call of God in their lives, and to model attitudes as well as activities that reflect the ongoing accomplishment of that vision on a daily basis within their respected vocations. In the business world there are many potential problems or challenges, many of which can distract from the fulfillment of God's vision.
Focus 1330 is a group in which members can be encouraged, challenged, and lifted up spiritually in order to accomplish the vision that God has for them. There are also many opportunities within the business world to be challenged with daily practical decisions. Employees, finances, taxation, and other aspects of business can be confusing and difficult. Focus 1330 creates an environment in which to obtain and give godly counsel to these and other pertinent business issues.
Focus 1330 is a non-denominational Christian group that is not affiliated with a particular church body or doctrine. It is an open group and new members are always encouraged to attend. Meetings will be held weekly at 6:00 a.m. and will last for ninety minutes. During this time there will be opportunities for members to share recent testimonies and/or ongoing challenges to enlist input and feedback from other members. There will also be a topic chosen weekly in which the members will be engaged in discussion. Topics will tend to focus on the business arena with regard to the Christian walk.
Focus 1330 attendees have a high degree of integrity, are trustworthy, and want to serve. They realize that the calling of God within their vocation is bigger than themselves and that the accomplishment of their vision results in bringing glory to God and blessing many others. Attendees strive to grow and improve, and understand that they are responsible for their own success. This does not mean that they are all walking a perfect walk, but that their attitude is to "forget what is behind, and press on toward the upward call of Christ Jesus".
Focus 1330 meetings are not sales oriented or designed specifically for increasing revenue. Attendees understand that God brings about increased stewardship opportunities and responsibilities to those that prove themselves faithful. The ultimate will of God is that none be lost and He will equip and enable His people to spread the good news of the gospel and encourage one another at home and around the world.
Focus 1330 is a ministry for those involved in business. Its focus is to rely on God and His Word for guidance and instruction. Accountability and encouragement of like minded people are the backbone of the group to accomplish the overall goal of growing our businesses to glorify and support the kingdom of God.
Call to Action
You are standing on the banks of the Jordan River. In your heart is an unmistakable call of God - a purpose for which you were uniquely created and prepared. In your mind is His promise - you will have victory. Put your focus on the promise.
"Let us go up at once and occupy it, for we are well able to overcome it."
Give me a call at (360) 891-8114 if you need directions or would like to know more about our current topics. We meet at the Vancouver Pillar Church on Ward Road and 76th Street from 6 AM to 7:30 AM. You can also check out the online calendar to confirm meetings.