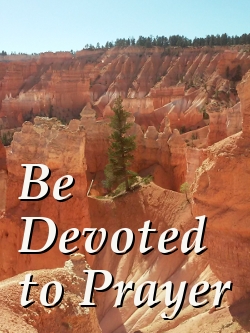 Devote yourselves to prayer, being watchful and thankful. - Colossians 4:2
Paul's letter to the Colossians is written like a year-end newsletter from a missionary. He gives a little update, shares information about mutual acquaintances, and gives a few words of encouragement to his friends. Like a Christmas letter, it is concise and personal.
In the last chapter he says: "And pray for us, too, that God may open a door for our message, so that we may proclaim the mystery of Christ, for which I am in chains."
Notice the inclusive pronouns: us, our and we. The prayer he is requesting ties him and his readers together with a common purpose. We are all in this together, he writes. Pray that God will open a door for our message so we all can proclaim it well.
We are not separated from Paul by twelve hundred miles, as was his original audience. We are separated by almost two thousand years. Nevertheless, we are in partnership with him, just as they were. We still have the common purpose to proclaim the good news.
The need for us to be devoted to prayer is just as urgent as it was then.
Devoted
Praying at all times in the Spirit, with all prayer and supplication. To that end keep alert with all perseverance, making supplication for all the saints. - Ephesians 6:18
Praying at all times in the Spirit is only possible for people that are totally devoted and willing to stay alert. They make prayer a priority and demonstrate that it is a real value in their lives. They pray spontaneously, as if the words tumble out of their mouths without restraint. The casual observer may assume they are thinking out loud rather than brainstorming with the Creator of the universe.
It takes a discipline of prayer to build this kind of devotion and perseverance. Most people form the habit of continual prayer by adding it to their daily routine. It sounds counter-intuitive, but you must schedule prayer times and practice them before prayer becomes effortlessly spontaneous. Do it the first thing in the morning to help set a tone of prayer for the rest of the day. Do it the last thing in the evening to help your mind find peace and rest at night.
It helps to have a place of prayer. A prayer-closet is anywhere you can pray in private. A war-room is a similar place, but adds an element of purposeful prayer. If you do not already have a prayer place, I recommend experimenting. Try a different place each day for a week or so. See where you are most comfortable visiting with the Holy Spirit. In a way this is like finding (or creating) a nice conversation nook to share with a great friend.
Dedicated prayer in a special time and place will overflow into spontaneous and constant prayer. Once you have established prayer as a priority for the day, it is effortless to maintain it as a priority. When you are on speaking terms with God there are any number of things you will want to run by Him, and there are some profound things He will want to share with you.
Watchful
Therefore I tell you, whatever you ask in prayer, believe that you have received it, and it will be yours. - Mark 11:24
Devote yourselves to prayer, being watchful and thankful. To be watchful means to look ahead with expectation. This is a call to the prayer of faith. Jesus told the disciples that whatever you ask for in prayer, believe that you have received it and it will be yours. What an incredible promise! This kind of faith can only come from a heart that is in complete agreement with the will of God.
I encourage you to engage in this kind of expectant prayer with your eyes open, at least figuratively. In other words, when I ask that God open a door for the message of the gospel I glance around to see which door is ajar. Maybe an opportunity will suddenly appear where none existed before. Maybe an opportunity is barely discernable, but the door has slid open a crack. Either way, my prayer is watchful when I expect a direct answer.
Jesus taught about faith with His description of a prayer that moves mountains. He said if we say to this mountain, "Move from here to there," it will move, because nothing will be impossible for you. Can you imagine praying with this kind of faith? If, when you opened your eyes, the mountain was still in its place you would say: "Mountain, what are you doing there?!"
Honestly, I have never felt compelled to move a mountain in this way because I like where there are, and I do not have a better idea of where they should be. However, I have said to a demon, "Move from here to there." I remember one occasion where the demon did not move, and when I opened my eyes I said: "Demon, what are you doing there?!" It argued and tried to convince me it did not have to leave, but I knew better. "You have no right to stay! Get out now, in the name of Jesus, and don't come back!" I commanded firmly. And it moved.
Be watchful when you pray.
Thankful
And He told them a parable to the effect that they ought always to pray and not lose heart. - Luke 18:1
The prayer of hope comes by thankfulness. Hope is similar to faith because it arises out of believing your prayer will be answered. It is an expectation built on the character of God. He has good things in mind for us, He hears our prayers, and He wants to be our Protector and Provider. Every good and perfect gift comes from Him. This is the truth that remains in the heart of the devoted prayer warrior.
There are many Bible verses that link prayer and thanksgiving. When you thank God for answering your prayer it acknowledges Him as the source and benefactor. When you thank God for answering your prayer it acknowledges that it is a good gift. The attitude of gratefulness is the link between the prayer request and the answer provided.
It is also important to thank God before He answers your prayer. The expectant gratefulness fills your prayer with hope. In a way, hope is faith with a surprise still in it. Faith is when I believe what I know is true. Hope is believing what I do not yet know is true. My hope is built on God's character, and His surprises are beyond what I can ask or imagine.
Jesus taught that we are to always pray and not lose heart. Hope is the attitude that allows me to be persistent. This is not to be confused with an attitude of stubbornness. Hope is an agreement of wills, where stubborn is a battle of wills. No one will win a battle of wills against the Creator of the universe. However, when His will and my will are in agreement, there is great hope and anticipation.
Be thankful when you pray.
Prayer is the Ministry
Prayer does not equip us for greater works—prayer is the greater work. - My Utmost for His Highest (October 17).
You and I are on the mission team. We are key players wherever we are, because we are doing the greater work. We are devoted to prayer that God may open a door for His message.
Some are called to go to foreign lands and new cultures to share the good news of the Kingdom. Others are called to share that good news to their own people group. Still others are called to share it within their community or immediate family. Every opportunity is part of the mission. It is not God's will that any should perish, but that all should reach repentance (2 Peter 3:9). This is good news worth proclaiming.
Paul wrote: "Pray for us, that God may open a door for the word, on account of which I am in prison." He cracks me up. It is as if he is saying: "I'm in prison, so it would be nice if God would open a door, or create a window, or cause a crack in the wall. I'm so eager to share the word, I'm just ready to bust out of this joint." Of course, I'm paraphrasing liberally here, but to make the point of urgency. We are on the same team as the Apostle Paul. We are called to the same purpose.
Are you willing to pray that God would open a door for your message? Are you feeling constrained or walled in? Are you hoping to bust out of this jail cell so you can be free to tell others the good news?
Be devoted to watchful and thankful prayer. God will open a door and provide opportunity for us.