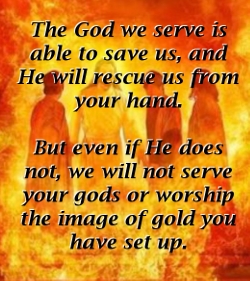 But God shows His love for us in that while we were still sinners, Christ died for us. - Romans 5:8
In a recent Bible study group we discussed the nature of God and how much He loves us. I had just expressed the idea that we, as humans, are created to worship. God's intention for us from the time of creation is that we would worship Him.
"I don't get it," said one of the participants. "When you look at the track record, all the way back to the beginning, man has done a poor job of worshiping God. Even when He was doing all the loving things, miracles and all that, people worshiped idols instead."
We all nodded in agreement. This is the sinful nature of mankind, and we are not much of a prize for God.
"I don't doubt that God created us," he continued. "But what does He get out of it?"
"Absolutely nothing," I answered. "And isn't that the perfect picture of unconditional love?"
Statement of Faith
If this be so, our God whom we serve is able to deliver us from the burning fiery furnace, and He will deliver us out of your hand, O king. But if not, be it known to you, O king, that we will not serve your gods or worship the golden image that you have set up. - Daniel 3:17-18
This incredible statement of faith was given by Shadrach, Meshach and Abednego in response to the pass/fail test set up by king Nebuchadnezzar. His threat was a matter of life or death: obey or burn. Their answer was more than an opinion or hope, otherwise they would not have staked their lives on their conviction.
Where did they get such faith?
They were aware of God. These Hebrews were sons of Abraham, and well aware of their spiritual heritage.
They feared God. They knew His commandment: "Thou shalt have no other gods before Me."
They were in awe of God. They always worshiped Him, and Him alone.
They trusted God. They had the examples of His salvation through Adam and Eve, Seth, Noah, Abraham, Isaac, Joseph, Moses and David. That is why they said that He was able to deliver them.
They knew God. His nature and character were obvious by His consistent responses throughout the ages. He keeps His promises. That is why they said that He was willing to deliver them.
They loved God. Their love for God was unconditional, just as was His love for them. That is why they said they would worship only Him, even if He did not deliver them from the fiery furnace.
Basis for Faith
How solid is your statement of faith? If you were put to the test, as a matter of life or death, would your answer demonstrate unconditional love?
You are aware of God. Paul wrote: "For what can be known about God is plain to them, because God has shown it to them. For His invisible attributes, namely, His eternal power and divine nature, have been clearly perceived, ever since the creation of the world, in the things that have been made. So they are without excuse (Romans 1:19-20).
You fear God. James wrote: "You believe that God is One; you do well. Even the demons believe -- and shudder! (James 2:19).
Are you in awe of God? You worship whatever holds your attention. Consider what your heart is drawn toward or what is always at the top of your mind. Some today make an idol of entertainment, or politics, or money, or position, or health, or personal comfort. Those who worship God begin to understand His nature and character.
Do you trust God? He keeps His promises, but that only builds a statement of faith for those who know what He has promised them. His word says: "Keep your life free from love of money, and be content with what you have, for He has said, 'I will never leave you nor forsake you.' So we can confidently say, 'The Lord is my Helper; I will not fear; what can man do to me?'" (Hebrews 13:5-6).
Do you know God? Remember how He has fulfilled His promises to you in the past. Remind yourself of the ways He has demonstrated His unconditional love to you, personally.
Do you love God? Unconditional love is demonstrated by affection and appreciation without any expectation of return. This is the basis for the powerful footnote spoken by Shadrach, Meshach and Abednego: "Even if He does not…" Their loyalty is given without condition.
But If Not …
Some were tortured … others suffered mocking and flogging, and even chains and imprisonment. They were stoned, sawn in two, and killed with the sword. - Hebrews 11:35-38
Unconditional love is a rare commodity. We live in a sinful world that prizes self above all else, and yet we are called to die to self. Not many have such a powerful statement of faith as those listed in the eleventh chapter of Hebrews.
When we pray, are our prayers unconditional?
What about poverty? Here is a statement of faith: He is able to provide more than enough for my needs, and He will take care of me because I am worth more to Him than sparrows and lilies.
Here is a statement of unconditional love: But even if He does not, I will worship and serve only Him.
What about health? Here is a statement of faith: He is able to heal me from any condition, sickness, or spirit, and He will restore me to health because "by His stripes I am healed," which means the price has already been paid.
Here is a statement of unconditional love: But even if He does not, I will worship and serve Him with all my heart, mind, soul and strength.
What about death? Here is a statement of faith: He is able to keep me and comfort me even in the shadow of death, and He will preserve my life because He promises that since He died so shall I live.
Here is a statement of unconditional love: But even if He does not, I know that I will be with Him in eternity. I don't know which is better, for me to live is Christ and to die is gain!
"Even if He does not" is the defining characteristic of unconditional love. Praise God that while I was incapable of meeting any conditions, He loved me with unconditional love. It is only with that gift from Him that I can reflect unconditional love back to Him.