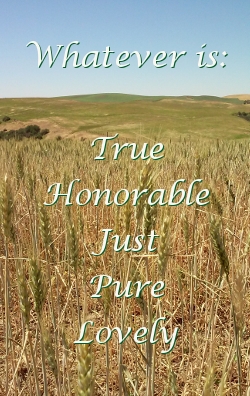 Finally, brothers, whatever is true, whatever is honorable, whatever is just, whatever is pure, whatever is lovely, … think about these things. - Philippians 4:8
The thoughts we rehearse act as truth to us. They define our identity and form our personality. The way we feel or respond to a situation is based on these beliefs, but they create a faulty paradigm when they are formed under false pretenses.
"I know I shouldn't feel this way, but …"
It just rolls off the tongue without any effort, and the words that follow contain the form of truth the person is rehearsing. It is their paradigm.
A person cannot be reconciled to their identity in Christ by rehearsing a faulty paradigm. True reconciliation requires that they replace such thoughts with the truth of Jesus. This is how the mind is renewed.
Muddled Thinking
"I know I shouldn't feel powerless, but …"
This is a confession that expresses the person's paradigm. Some examples of "truth" that I have heard include accounts of being bullied, abused, and cursed. It is offered by way of explanation or excuse. The speaker wishes to be powerful but rehearses the reasons he or she is not. The explanation is an attempt to solve the conflict between the desire and the reality.
"… I have never been allowed to have a voice. Every time I tried to express myself it cost me dearly. I wouldn't know how to use power if it were granted to me."
As the listener you may want to listen quietly to assure the person that you care, but your silence implies that you concur with his or her conclusion. On the other hand, if you argue he or she may feel that you are judgmental or callused.
Where does this muddled thinking come from?
Usually it is born in trauma. Sometimes it is overt, such as being picked on by a bully with no one coming to your defense. At other times it is as subtle as a word curse, like when an authority figure proclaims that you will not amount to anything (be powerless.)
Once the faulty conclusion is built into the paradigm, future events are viewed through that lens. The powerless person will have a lifetime of evidence since that first belief to "prove" it. Unfortunately, we see what we believe and confirm what we already know.
Renewed Mind
And to be renewed in the spirit of your minds, and to put on the new self, created after the likeness of God in true righteousness and holiness. - Ephesians 4:23-24
It is very difficult to catch yourself in a faulty paradigm. What you have been rehearsing as truth is your "normal" and there is little call to interrogate those beliefs. However, you can practice mind renewal through meditative prayer by letting the Holy Spirit guide you into true righteousness.
Pain is a symptom of conflict between who you are being and the person God designed you to be. That pain may be expressed in the physical, emotional, or spiritual realms. You can follow the pain to discern the source of conflict.
My strongest recommendation is that you pray with a trusted person that can offer a different perspective. The intercessor is more quickly able to discern the faulty thinking because he or she is outside of your paradigm.
Whether you are hearing yourself speak, or listening to a friend, stop at the "but." In the example above, the explanation begins with an apology of sorts: "I know I shouldn't feel this way…" That is the tip off. If the person continues, it will be with an explanation that contains the faulty conclusion.
Rather than listen to the person rehearse the false belief, lovingly interrupt. Ask if he or she would be willing to interrogate their explanation for the sake of mind renewal.
We can either confess our belief to ourselves to add further proof to our paradigm, or we can confess our belief to Jesus by taking the thought captive. In the second case, the goal is to have Jesus confirm or replace the belief with His truth.
For example, the powerless person confessed to Jesus that he believed he had never been allowed to have a voice. When we took that thought captive, Jesus agreed that it had been true at one time, long ago. Then He showed the man how He had given him a wonderful voice. The man's mind was renewed and he realized that he could sing God's praises and express his heart. He celebrated the new self, and has been singing and sharing ever since.
Powerful Confession
Finally, brothers, whatever is true, whatever is honorable, whatever is just, whatever is pure, whatever is lovely, whatever is commendable, if there is any excellence, if there is anything worthy of praise, think about these things. - Philippians 4:8
Rehearse the truth. Choose to think about things that are true, honorable, just, pure, lovely, commendable, excellent and worthy of praise.
One way to begin the practice of powerful confession is to make a list of things that qualify for you to think about. I recommend a grid, with this list of adjectives making up eight columns. Below each heading write the things that come to your mind.
For instance, I can think of several things that are true. The Bible is true. The commandments are true. God's mercy is true. My wife is true. A balanced picture is true. A squared wall is true. An honest answer is true. I can think of several things that are pure: A spring-fed stream is pure. A ray of sunshine is pure. A child's compliment is pure. My mother's lifestyle is pure. A sparkling diamond is pure.
Practice rehearsing truth by thinking about these things. Make your own list. When your mind starts to wander and doubts, fears, anger, bitterness, or other things creep in, change your mind. Think about these things. Go to your list and pick one or two items. Think about them. You will find that your paradigm is the better for it.
Practice taking your thoughts captive to make them obedient to Christ. Remember, you can either confess your belief to yourself to protect your paradigm or you can confess it to Christ for the sake of renewing your mind. The moment you hear yourself rehearse a "truth" to resolve conflict, confess it to Jesus and ask Him for truth.
When you hear a friend rehearse a faulty truth, lovingly interrupt. Help them confess the belief to Jesus and receive His truth. You will help them truly resolve conflict, and you will discover more about their identity in Christ.