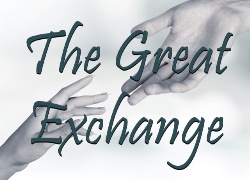 Come to Me, all who labor and are heavy laden, and I will give you rest. - Matthew 11:28
Imagine a crazy swap meet where you can bring anything you want to be rid of and trade it for something of value. You might think, ďWell, one manís junk is anotherís treasure.Ē Sometimes something that one person considers worthless is considered valuable by someone else.
But what if you are invited to exchange something that is truly worthless? Who would make a deal like that?
My daughter owned an old pickup while at college but after graduation it had severe mechanical problems. She decided to replace it. When she told her coworkers that she planned to sell it, one asked, ďWhat idiot would buy that thing from you?!Ē
ďMy dad.Ē She answered.
Itís true. A father is willing to engage in such a trade because his love makes up the difference in the value for value exchange.
Itís Not Fair
If you then, who are evil, know how to give good gifts to your children, how much more will your Father who is in heaven give good things to those who ask Him! - Matthew 7:11
The Great Exchange takes love to a whole new level, way beyond old pickup trucks and dollars. Our Heavenly Father has an unlimited supply of love to make up the difference in the junk we need to exchange.
The first thing we have to do is get over the mindset that everything happens on a value for value basis. We know in our heart that we have nothing to give and that God has no need to fill. Yet we struggle in our mind as we try to make things fair. It is our justice mentality run amok; an echo from the fruit of the Tree of Knowledge of Good and Evil.
Your Father in heaven knows how to give good things to those who ask Him!
It was sin that tilted the table against us, and since then every trade we make is to our detriment. Our wisdom and judgment is clouded, and our perception is short-sighted and self-referential. No wonder we trade off the best things in exchange for what does not satisfy.
Itís not fair - itís grace!
What You Can Exchange
He who did not spare His own Son, but gave Him up for us all - how will He not also, along with Him, graciously give us all things? - Romans 8:32
God created all things and declared it was good, and very good. Mankind sinned by trading relationship with God for the responsibility of knowledge. God responded by trading His Son for us. He gave up what is of immeasurable value for what had lost all value. He tilted the table in our favor by grace.
Itís preposterous!
Genesis 3:6-8 recounts the original sin in the Garden of Eden. Mankind traded relationship with God for the knowledge of good and evil. The unintended consequences of that trade gave us judgment, separation, and pride. We can reverse that trade.
Judgment is detrimental because we are not equipped with the ability to discern all truth. We can exchange a spirit of judgment, justice mentality, critical spirit, hyper-responsibility, and unhealthy striving. Separation was a consequence of that sin. We can exchange isolation, withdrawing, defensive walls, barriers to relationship, inability to bond, and lack of empathy. Pride leads us to self-reliance and narcissism, each of which can be exchanged by grace.
John 3:16-18 describes the ultimate exchange of death for eternal life. The wages of sin is death, but the free gift of God is eternal life (Romans 6:23). When we traded our eternal life for a penalty of death, it put us into a condition of sin and dying.
We can exchange our sin for righteousness. That means we can exchange guilt, shame, and condemnation. We can exchange our death for eternal life. That means we can exchange fear of death, pain, conflict, distress, dysfunction, and disease.
Isaiah 51:11 promises the exchange of sorrow and sighing for gladness and joy. That means we can exchange sadness, grief, disappointment, hopelessness, depression, malaise, boredom, and stuck in a rut.
Matthew 11:28-30 invites us to exchange burdens for rest. That means we can exchange our unhealthy striving, weariness, and fruitless labor. We can also exchange the yolk of constraint, control, and abuse for one that is easy.
Deuteronomy 30:19 explains that we have a choice between blessing and curse. That means we can exchange our generational curses for an inheritance. It means we can exchange our curses from rash vows, oaths, or presumptuous sins. God will turn the curse into a blessing, just as He did for Israel (Nehemiah 13:2).
Ephesians 4:22-24 encourages us to put off our corrupted character traits and be renewed in the spirit of our mind, exchanging the old for a new self, created after the likeness of God in true righteousness and holiness. That means we can exchange our unredeemed characteristics for redeemed ones.
We can trade anger for holy passion, depression for compassion, striving for industry, lust for innocence, isolation for intimacy, judgment for respect, stubbornness for loyalty, unyielding for faith, laconic for powerful, critical for honesty, and rashness for courage.
What do you have in your trunk that you would like to exchange? Consider the junk that comes from sin, causes pain, represent conflict, and attempts to control you, and choose to bring them to the Great Exchange.
How to Transfer the Title
But God shows His love for us in that while we were still sinners, Christ died for us. - Romans 5:8
A spiritual transaction is an uncoerced agreement between two willing parties in the presence of two or more witnesses. It is binding in the spiritual, emotional and physical realms. The party of the first part is God; the party of the second part is you; and it is witnessed by the Son and Holy Spirit.
Identify Your Burden: There is pain where there is conflict between who you are being and who God created you to be. That pain may be in the spiritual, emotional or physical realm. Identify it by name and confess that it belongs to you.
Clear the Title: Your burden may be encumbered. In the Lordís Prayer we ask God to forgive us our debts. These debts are associated with the sin we have done and are tied to the consequences of those offenses. When you are forgiven the debt is paid and the burden is no longer encumbered.
Willingly Release: God is love, and He will not force you to do something nor will He manipulate you against your will. True love never overrides anotherís free will. If you are willing to let your burden go then He can give you something in trade.
Receive His Gift: The work of atonement is complete, and the burdens and pain of sin are forgiven at the cross. You accept the terms of this spiritual transaction through prayer. James 5:16 says that the prayer of a forgiven person is powerful and effective (translation mine).
Discover the Blessing: God resolves the conflict between who you are being and who He created you to be, and He gives perfect gifts to equip you for the purposes for which you are created. Your first response to this spiritual transaction is to feel the relief of having been set free from the detrimental burden. The next step is to experience the wonderful gift God puts in its place.
Here is a sample prayer that you can use:
Lord, I confess that I have been carrying a burden of (describe the detrimental thing). I ask You to forgive me for choosing to accept this as part of my identity. Now that I have been forgiven, I am willing to release this burden (describe it again) to You. I am willing to receive anything that You have for me in its place. Thank You for Your incredible grace, and help me to use this blessing wisely for Your Kingdom. Amen.