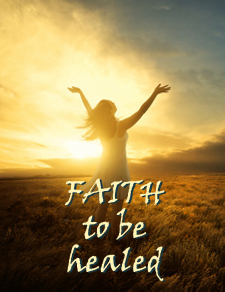 Paul looked directly at him, saw that he had faith to be healed and called out, "Stand up on your feet!" At that, the man jumped up and began to walk. - Acts 14:9-10
How did Paul see that he had faith to be healed?
This happened on Paul and Barnabas' first missionary journey as they preached the gospel at Lystra. The man had been crippled from birth, unable to walk until that moment. Paul recognized the man's faith and boldly commanded him to do the impossible. The man took a step of faith and began to jump and walk.
Consider Paul's faith in this account. The fact that this man was a cripple was obvious. Perhaps Paul saw something in the spiritual realm through discernment by the Holy Spirit. Or maybe he identified the faith by the man's body language or the look on his face. By faith, Paul overlooked the plain truth and saw the man's perfected condition. Paul called out and proclaimed freedom to the crippled man, and he was made well.
Many people do not have the faith to be healed. Their conviction rests on reason and logic rather than absolute truth. They may change their opinion based on new information, proving they have "conditional faith." On the one hand they may be satisfied with a diagnosis rather than a healing, proving that their highest authority is limited by current information.
Those that have built their faith on the truth, and have activated their faith from their mind to the spirit, have the faith to be healed.
Faith in His Name
And His name--by faith in His name--has made this man strong whom you see and know, and the faith that is through Jesus has given the man this perfect health in the presence of you all. - Acts 3:16
Peter and John had a similar occurrence when they came across a cripple by the temple. Peter and the beggar looked intently at each other for a moment, and then Peter commanded him: "In the name of Jesus Christ of Nazareth, rise up and walk!"
Was Peter looking for "faith to be healed" when he fixed his gaze on this man? Though he had been crippled since birth, the man immediately stood up and began walking, jumping and praising God. He had the faith to be healed, it turns out.
Faith in the name of Jesus Christ of Nazareth unleashes the supernatural. We would do well to understand this faith.
Faith is a personal conviction of truth. Our faith holds when we place it on something or someone that cannot change. For example, we can have faith that Jesus is the Son of God, that He came from the Father, and that by His death we are made well. According to Jesus, this faith is the key to eternal life.
However, not every personal conviction is faith. A personal conviction placed on something that can change is an opinion. The strength of one's faith is not measured by his or her conviction but by its truth. That is why the father in Mark 9 could ask Jesus to help his unbelief. The truth was that Jesus had the power to heal his son, and that fact could not change. That truth could not change, though the father's conviction could, and did!
The power of faith is in the truth. Faith means we believe in something because it is true; it does not become true because we believe.
Jesus healed a woman from bleeding and said to her, "Daughter, your faith has made you well; go in peace." (Luke 8:47-48) The scripture says that she had spent all she had on physicians over twelve years but her faith in healing was not enough. She did not build her faith in healing, but she had faith to be healed. The subtle difference is that she was convinced Jesus had the power to change her condition, and she was made well.
True faith does not reside in the mind but in the heart.
The mind is the milieu for opinions, interpretations, assumptions and conclusions. It is notoriously faulty, yet Western culture overestimates the power of thought and logic. This leads to much confusion about faith.
We often quote Dr. Ed Smith who said: "What you believe to be true acts as if it is true to you." In other words, what you rely on as unchangeable will remain unchangeable in your frame of reference. For example, the person that believes he is worthless will act as worthless despite any and all information to the contrary. The mind is conditioned to believe that anything it thinks up must be true, and it is quite reluctant to give up that opinion.
True faith must be aligned with absolute truth. Each person holds "absolute truth" in his or her heart. When that truth is based on the nature and character of God it is truly unchangeable. If it is based on the opinion of man it is subject to change and corruption.
Activate Your Faith
Beloved, if our heart does not condemn us, we have confidence before God; and whatever we ask we receive from Him, because we keep His commandments and do what pleases Him. - 1 John 3:21-22
Do you have the faith to be healed? If so, you believe that your current condition is subject to change under the power of Jesus Christ.
Jesus told the woman in Luke 8 that her faith had made her well. Yet, the healing did not manifest until she had touched the hem of his robe. It was by faith that she came up with the idea of sneaking through the crowd to touch Him. It was by faith that she jostled with people who considered her to be unclean. By faith she should have been healed when the idea became a conviction.
We must activate our faith.
We have to test our opinions and conclusions against absolute truth. It must shift from our mind to our heart, from our soul to our spirit. Imagine that your soul (mind, will and emotions) is like a can of paint. We activate our thoughts, choices and feelings by spreading them in other realms. We experience our emotions, express our thoughts, and engage our will.
This is what happened to the woman. She pondered the idea of being healed in her mind and it grew into a thought, a plan, a conviction, and finally into action. Her healing was completed just as her conviction was.
There are many ways to activate one's faith.
Confess your sins and receive forgiveness. God promises to forgive the sins we confess. This act of faith begins in the mind but expresses itself in the emotions and will. The confessor chooses to release the burden of sin rather than attempt to repay or suffer the punishment, and in so doing accepts the change that is offered by the nature and character of God.
I believe the spiritual transaction of forgiveness is a great way to activate faith. That is why James 5:16 includes this step in his promise of healing. When you feel forgiven it overrides the facts in your mind and puts you in touch with the absolute truth of God in your heart.
Take action. Faith can be activated by engaging your will. When God gives an instruction your obedience converts your faith from an opinion to a conviction. For example, Peter had to step out of the boat before walking on water, and Naaman had to dip in the Jordan to be cleansed from leprosy.
Another form of obedience is to follow the commandments and laws of God. These are given to show us His character and nature, and by them we live. Not only does it activate our faith by putting it into practice, but it also conforms our will to His. Our faith increases because of the promise in 1 John 5:14-15 that we can be convinced that He will answer when we ask according to His will.
For example, the law of the tithe activates your faith that God is your Provider. It is one thing to accept the idea that all things come from Him, but quite another to put that opinion to the test. Anyone can entertain the thought that God is the Source, but the one who tithes believes it with his or her heart.
Calling forth a witness is another way to activate faith. A spiritual transaction is proven on the testimony of two or more. Whether you are making a request, a commitment, or receiving forgiveness, it is best to have the truth held in two or more hands. Confess your sins to one another. Confess your thoughts to one another. Agree in prayer with one another. The unity of thoughts and minds spreads the ideas into the heart.
Ask in Prayer
And whatever you ask in prayer, you will receive, if you have faith.- Matthew 21:22
Prayer is one of the greatest gifts of God for activating faith. Through prayer we are able to communicate with God by asking and listening. We can ask Him to reveal His will and choose to conform ours to His. We can listen for steps of obedience or evidence of His nature and character. He is our Provider and we can believe in Him.
Jesus said, "All things are possible for one who believes." The father of the child cried out and said, "I believe; help my unbelief!" (Mark 9:23-24)
I encourage you to believe in Jesus Christ, the One who represents absolute truth. Surrender your faith in an outcome and put your trust in His love. He will help your unbelief!