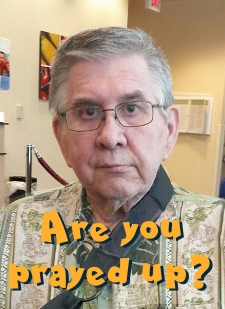 Praying at all times in the Spirit, with all prayers and supplication. To that end keep alert with all perseverance, making supplication for all the saints. - Ephesians 6:18
"Are you prayed up?"
It was a question I expected every Tuesday evening from my good friend and prayer mentor, Bill Timm. He would smile at me with a twinkle in his eye as if he knew a secret. He was the director of the Vancouver Prayer and Healing Rooms, and he expected miracles for those that came for prayer.
"What do you mean, am I prayed up?" I asked him early in my training. "Are you ready to serve? Have you been in worship and confessed your sin and spent time listening to the Holy Spirit for any special messages or insight?" he rattled off quickly.
Before we accepted any prayer requests from visitors, all the volunteers gathered for thirty to forty-five minutes to pray and wait on the Lord. I love to intercede for the needs of others, but I really came to appreciate that time of focused, corporate prayer too.
Consecrated
My sons, do not now be negligent, for the LORD has chosen you to stand in His presence, to minister to Him and to be His ministers and make offerings to Him." - 2 Chronicles 29:11
No one could minister to the LORD without first being consecrated. They had to be cleansed physically, emotionally and spiritually, and they had to maintain that ceremonially clean condition. King Hezekiah started a revival during his reign, and there was a rush to find consecrated priests and Levites.
The same is true today for anyone who wishes to minister to the LORD, especially in intercessory prayer. We have to be "prayed up." It works like this:
Worship: We begin with worship as a way to humble ourselves. When we recognize God and acknowledge His true character we cannot help but be in awe of Him. Then we are able to see ourselves in an honest perspective: acting as witness and watching His power.
Forgiveness: The next step is investigation and interrogation by which we invite the Holy Spirit to reveal any hidden or cherished sin. We confess whatever sin He brings to mind and ask for forgiveness. If there is any bitterness, resentment, or offense against another, we choose to forgive them and release the debt. This step brings additional peace to our spirit.
Gratitude: Our freedom from sin fills us with thankfulness. As we appreciate God in prayer, we become generous in our attitudes toward Him and others. This is the precursor to releasing any judgment, condemnation or criticism of the people for whom we will intercede.
Agreement: Consecrated is not a commonly used term, but it carries the meaning of being dedicated, prepared, purified, cleansed, holy, sanctified, set apart, and appointed. In short, it means to be ready to minister to the LORD without bringing any sin into the process. We surrender everything to God: our will, our agenda, our opinions, our rights, our power, and our sense of responsibility. We have to pray like Jesus: "Thy will be done."
When Bill asked me if I was "prayed up" it was his shorthand way of asking if I was consecrated and ready to minister. He wanted to know if I could pray without prejudice for any need that came in the door. He wanted to know if I would be triggered by my pain while hearing someone else describe theirs. He wanted to know if I would be able to share an insight from the Holy Spirit with a person, and not pollute it with my own frame of reference.
I would have to be able to do any and all of those things to act as an intercessor because that is a priestly role.
It takes me ten to twenty minutes of prayer time per day to stay "prayed up" and I highly recommend this spiritual discipline. I have to catch up if I do not stay "prayed up." It takes me an hour to get "prayed up" when I have to catch up for a week. It takes me a day to get "prayed up" if I have to catch up for a month. I imagine it would take a week to get "prayed up" if I had to catch up for a year. That is why I highly recommend staying "prayed up."
The Roles of Intercessor
Then the priests and the Levites arose and blessed the people, and their voice was heard, and their prayer came to His holy habitation in heaven. - 2 Chronicles 30:27
An intercessor acts on behalf of another person, helping them do what they are unable or unwilling to do on their own. The priests and Levites had been consecrated so they could pray and offer sacrifices so the people could be cleansed. They were allowed to work at the altar and arrange for the atonement of the people.

The role of intercessor in the new covenant is to pray on behalf of another because their preparation means their voice will be heard. This is what it means to pray in the Spirit (Ephesians 6:18). The intercessor offers himself as a temple for the Holy Spirit, and the Holy Spirit prays through him. The object of the prayer is the yet to be cleansed person who benefits from the prayer of the Holy Spirit. The intercessor acts as witness.

Prophet: An intercessor may act as a prophet who speaks the truth in love. For instance, an exhortation or word of correction may come from the Spirit through the prophet.

Priest: An intercessor may act as a priest who hears a confession of sin and acts as a witness to the forgiveness of that sin. For instance, Job acted as a priest for his children just in case they sinned while they partied (Job 1).

King: An intercessor may act as a king who exercises authority as appropriate for the benefit of the person. For instance, speaking life and health into a body or casting out an unclean spirit or condition in the authority of Jesus Christ.

In these various roles the consecrated intercessor is party to amazing miracles, supernatural healing, and reconciliation. Bill knew this to be true and could not hide the twinkle in his eye as he anticipated great answers to prayer.
The Results of Intercession
And Hezekiah questioned the priests and the Levites about the heaps. - 2 Chronicles 31:9
Hezekiah started a revival in his kingdom, and the people came to the temple to be cleansed. The twenty-ninth chapter describes the people bringing sin offerings, burnt offerings, sacrifices, thank offerings, peace offerings, and drink offerings.
Then the LORD heard Hezekiah and healed the people (2 Chronicles 30:20). The whole nation began to recognize the love and power of God and the people were not able to contain their joy. They brought more sacrifices and offerings as gifts to Him. The excess began to pile up in heaps.
Imagine a land where people have turned their hearts to the Lord. They worship and humble themselves before Him. They confess and receive forgiveness from their sin. They feel the freedom and express their gratefulness with offerings and sacrifices. They come into agreement with the Lord, and their expressions of gratitude begin to pile up in heaps. They experienced national peace and prosperity!
That happened because Hezekiah called the nation to repentance, and they got "prayed up." But to get it started, he had to find the priests and Levites that were "prayed up" so they could intercede for the others.
Perhaps you know of a community or people group that could benefit from this kind of supernatural peace and prosperity.
Are you prayed up?
Consecrate yourself. It is time to intercede for those you love.