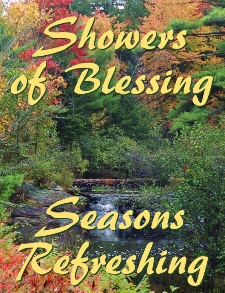 There shall be showers of blessing;
This is the promise of love;
There shall be seasons refreshing,
Sent from the Savior above.
- Daniel W. Whittle (1883)
We live in rain country, and this time of year there is always an abundance of fresh water. My impression is that people who grew up in sunshine and distinct seasons have little appreciation for long periods of drippy weather like we have in the Pacific Northwestís maritime or oceanic climate.
For me it is a near-constant reminder of the showers of blessings sung about in the old hymn of that name. Daniel Whittle took the idea for his song from Godís promise to Israel found in Ezekiel 34. It is a promise that our faithfulness to Him will be rewarded with showers of blessing as a demonstration of His favor toward us.
Now is a good time to be seeking Godís favor. We can pray for His showers of blessing to rest on our home, our community, and our family.
Blessings All Around
And I will make them and the places all around My hill a blessing, and I will send down the showers in their season; they shall be showers of blessing. - Ezekiel 34:26
In the Thirty-fourth chapter of Ezekiel the Lord takes exception with the shepherds. Those that were responsible for the care of His people are like bad shepherds, looking only to their own interests rather than the needs of their flock. But the Lord promises to rescue His flock. He will give them comfort, provision, protection, and blessing.
The first prayer strategy for blessing is the home. See to it that the leadership of the home is modeled after Godís ways, His statutes, and commandments. When the household operates according to His plan the blessings are not blocked. The husband and wife set the right tone and model the way of relationship and truth. The children are able to grow in strength and confidence in this environment.
God blesses the home by protecting it in the spiritual, emotional and physical realms. No scheme of the enemy can prevail against this place. No fear, anger or strife has a place here, but rather peace and joy overflow from each person. You will quickly see that everything operates more efficiently because of this harmony.
The second prayer strategy for blessing is your neighborhood. The people that live near you are the first to benefit from your blessing. Laban was blessed while Jacob worked for him, and in the following generation all of Egypt felt Godís blessing on Joseph. Pray for your neighbors by name, and ask God to give them peace and joy.
The third prayer strategy for blessing is your city or town. God can place a blessing on a location because of His favor for one or two followers. Remember that He would not have destroyed Sodom and Gomorrah if there had been ten righteous in those cities. Be righteous and pray for your community.
The fourth prayer strategy for blessing is your country. In First Timothy 2:1-2 we are invited to pray for all people, especially those in leadership over us. Ask the Lord for a blessing so that we may lead a peaceful and quiet life, godly and dignified in every way. This prayer strategy is particularly important right now.
The promise of God is that the trees of the field shall yield their fruit, and the earth shall yield its increase, and they shall be secure in their land. When this happens, the people shall know that He is the LORD (Ezekiel 34:27).
Blessing Descendants
For I will pour water on the thirsty land, and streams on the dry ground; I will pour My Spirit upon your offspring, and My blessing on your descendants. - Isaiah 44:3
The Forty-fourth chapter of Isaiah picks up the showers of blessing theme. This word picture shows the LORD pouring fresh water on a thirsty land. I picture a desert scene with a cool, clear stream running through it. Suddenly everything comes alive, green and growing.
One of my favorite prayer strategies for blessing is on my offspring. Pray for your children, that they will discover their relationship with the LORD and learn to grow in it. Encourage them with prophetic proclamation, calling forth Godís design into their lives. Let them see the power of God as He answers prayer.
I have no greater joy than to hear that my children are walking in the truth. - 3 John 1:4
A similar prayer is for blessing on your spiritual offspring. These are the people that God has put in your life to receive spiritual encouragement and guidance. Often they lack that guidance from their physical parents, but God has a way of making provision through His obedient servants. It is a great privilege to hear that oneís spiritual children are walking in the truth, also.
The big promise in Isaiahís writing is that the LORD will place His blessing on your descendants. Let us claim this promise beyond the third and fourth generation. Pray for blessing like you really mean it:
But showing steadfast love to thousands of those who love Me and keep My commandments. - Exodus 20:6
I bless you to enjoy showers of blessing and seasons refreshing.