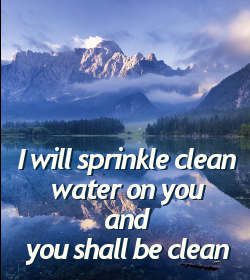 I will sprinkle clean water on you, and you shall be clean from all your uncleannesses, and from all your idols I will cleanse you. - Ezekiel 36:25
God is love and He is holy. No unholy thing can be in His presence, and we are unholy because of sin. God wants us to be with Him, so He makes a way for us to be clean. However, it is up to us to agree with Him. He will not cleanse people against their will.
A cleansing prayer is a request to God to take the steps necessary for cleansing. It acknowledges that He has the authority to make us clean, and demonstrates that we are in agreement with His desire to do so.
This kind of prayer can be applied to an individual, family, location or community.
Cleanse My Heart
Since we have these promises, beloved, let us cleanse ourselves from every defilement of body and spirit, bringing holiness to completion in the fear of God. - 2 Corinthians 7:1
The Holy Spirit convicts a person of sin. It may feel like a guilty conscience, a sudden awareness of wrong, or a sense of embarrassment. The purpose of conviction is for the person to realize that he has missed the mark. What he is doing or being is not what God intends for him. The first step is to offer a prayer for forgiveness which is the only way to reconcile the sin.
The forgiven person is able to repent, which means to turn to a different way. Repentant persons no longer follow the sinful behavior, but find ways to engage in holiness instead. This is an ongoing choice. God invites us to choose between life and death, blessing and curses. In every circumstance we should choose life and blessing.
Sample prayer:
Lord, thank You for hearing my confession of sin and forgiving me. Now I ask You to cleanse me from all unrighteousness (1 John 1:9). Please bring to my mind any thoughts, actions, feelings or beliefs that are contrary to Your laws, will, and ways. I choose to release every defilement of body and spirit that You call to my attention, and walk in the freedom of Your truth. Amen.
Cleanse My Family
Who gave Himself for us to redeem us from all lawlessness and to purify for Himself a people for His own possession who are zealous for good works. - Titus 2:14
The Bible describes the character of God as relational. He is triune, always operating in relationship as Father, Son and Holy Spirit. He has been in relationship with mankind since creation, and everything about Adam and Eve was designed for continued relationship between themselves and God. Family is Godís idea, and it is a relationship through which we love one another.
Job is described as a father that confessed sin, or potential sin, on behalf of his children. He took steps to cleanse them in the sight of the Lord (Job 1:5). Similarly, we have the authority to confess the sins of our loved ones, choose to forgive and ask God to forgive as well. While we cannot override our family membersí free will, we can resist the devil and make him flee from them for a while. We can also request that God cleanse them from all unrighteousness by repenting of their sinful behavior.
Sample prayer:
Lord, thank You for choosing to forgive my family for falling short of Your will, just as I have chosen to forgive them. Now I ask You to cleanse them from unrighteousness. Convict them of sin and show them your lovingkindness. Protect them from the traps of the evil one and let them walk in the freedom of Your truth. Amen.
Cleanse My Home
Draw near to God, and he will draw near to you. Cleanse your hands, you sinners, and purify your hearts, you double-minded. - James 4:8
God gave specific instructions to Moses about the Tabernacle. It was to be cleansed with water and blood, and kept holy by physical practices of separation from sin. The laws continued with the Temple. Anywhere God was invited to stay needed to be cleaned and set in order.
We are the temple of the Holy Spirit, and we must be cleansed by the water and blood in a spiritual sense. Similarly, the physical tabernacle and temple are examples of sanctification in the physical realm. We can apply this principle to our homes, offices, churches, and other locations.
The first step of cleansing is to go through your home and remove anything that is idolatrous or associated with evil. This includes anything used for sinful behavior, things related to the occult or spiritism, good luck charms, books or movies about witchcraft, and the like. Ask the Holy Spirit to bring these things to your attention as you walk through your house. Also ask Him how to dispose of each item.
Sample prayer:
Lord, I am grateful that You have provided this house. We choose to dedicate it to Your service and welcome Your presence in this place. As I enter each room, show me if there is any evil or idolatrous thing that defiles this place. I choose to act on Your advice to cleanse it and make it suitable for You. Continue to protect this home as Your temple that no evil can rest here. Amen.
Cleanse Your Prayer Warriors
Be sober-minded; be watchful. Your adversary the devil prowls around like a roaring lion, seeking someone to devour. - 1 Peter 5:8
We use cleansing prayers to be sober-minded and watchful. Our adversary is deceitful and wicked, and knows his time is short (Revelation 12:12). When we engage in spiritual warfare it is appropriate to ask for cleansing from any loopholes, legal ground issues, or assignments from the devil. God can render any curse causeless so it cannot affect us (Proverbs 26:2).
Sample prayer:
Lord, we have fought the good fight and stand on Your truth. If our thoughts or actions have created a stronghold or advantage for the enemy, we ask that You identify and remove it. We claim your blood of forgiveness as our protection, and welcome Your Spirit as our Helper. We renounce any assignment or curse of the enemy in Your name. We proclaim our relationship to You as sons and daughters, and willingly come under Your protection. Amen.
We also use a cleansing prayer on behalf of those that have engaged in spiritual healing, especially while they are in the process of realizing their true identity. It may happen when we teach a group of people that one or more attendee becomes stirred up by conviction or condemnation. If there is not time or opportunity to bring that person to a place of peace, we ask the Lord to protect them.
Sample prayer:
Lord, if there are any here that have heard Your voice and feel distress rather than peace, we ask that You minister to them and give them peace. If any are under condemnation, show them Your mercy. If any are under conviction, show them their error and Your way to forgiveness. We put each one in Your hand, and entrust them to Your care. We come against any assignment of the enemy or opposition to Your love and ask the You rebuke it. Amen.
This is the promise God provides to all who are cleansed and set apart from evil:
"I will be a Father to you, and you shall be sons and daughters to Me, says the Lord Almighty." - 2 Corinthians 6:18