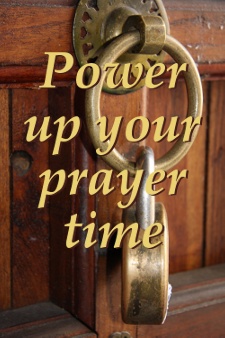 "We hear it said that a man will suffer in his life if he does not pray; I question it. What will suffer is the life of the Son of God in him, which is nourished not by food, but by prayer." - Oswald Chambers.
What an amazing truth. The life of the Son of God in us is nourished by prayer. When I fail to pray I effectively starve the Son of God that I have invited into my heart. How can my new nature thrive in that condition? It cannot.
I believe some people fail to pray because they misunderstand its purpose. Prayer is communication with God, and the power of prayer is measured by the change in the one praying.
Jesus taught the disciples to pray with a sample prayer, but more importantly He modeled powerful prayer. He talked with His heavenly Father, poured out His heart to Him, and knew His will through those times of togetherness.
The Bible is full of instructions that will help you power up your prayer time. Take some time to read and meditate on the following verses.
Organized Prayer
Likewise the Spirit helps us in our weakness. For we do not know what to pray for as we ought, but the Spirit Himself intercedes for us with groanings too deep for words. - Romans 8:26
I began using electronic prayer cards last spring (Echo for Android). Like the old fashioned 3x5 cards, it is a way to organize your prayer life. Write the topic of your prayer on the first line of your card. Then use the card to remind you to pray for that person or thing on a daily basis. Regular prayer times become more effective when you have a list of items to talk about with the Lord.
Listen to the leading of the Spirit as he helps you pray. Jot down the date and any notes or updates about your original prayer request. This gives you a chronology of how the prayer request may change. Sometimes the answer to a prayer is how it changes us.
Prayer requests tend to multiply. New topics come to our attention as we lift up the first topic. Start a new card for these sister topics, and track your prayers for them. For instance, you should have a card for your home church. As you pray, God will remind you to ask for increase, opportunities to love, ways to serve, and the like. Certainly you should pray for your pastor(s). Start a new card for them.
Record when and how your prayer requests are answered. As you accumulate them you will have increased faith in the power of prayer and a reminder of God's faithfulness. By the way, there is something very powerful about sharing your prayer journey with the friend for whom you have been interceding. The prayer card becomes a witness to your act of kindness and God's love.
Promises
For all the promises of God find their Yes in Him. That is why it is through Him that we utter our Amen to God for His glory. - 2 Corinthians 1:20
God can make a promise to you as you listen in prayer. When He does, you can be assured that it will come to pass at the right time. All of God's promises are true. This is one of the reasons we teach listening prayer in many of our workshops. If you learn to recognize the voice of God, then you will hear His promises and live in complete confidence.
God also makes promises to you as you read the Bible. Not every promise is for you; some were specific to the person to whom God was speaking. For instance, the land in Canaan on which Caleb walked as a spy was promised as an inheritance to him and his family. That was a private promise. However, many of the promises in the Bible are public. You can claim them.
The Scriptures are inspired by the Holy Spirit. Notice that I did not use the past tense in that sentence, but the present tense. The Spirit can quicken a promise to you, which is His way of letting you in on it. When that happens you can claim that promise, it is personal.
Thank God for the promises He has made to you. Claim them by faith, thank Him for saying "Yes in Him," and praise Him. It is as good as done. You will find the answer of that promise when the timing is perfect.
Prayer Pushups
Here are some prayer exercises that will help you build strength. Just like physical pushups can tone your muscles and strengthen your core, these little techniques will power up your prayer time. There are seven exercises, each with a key verse. Work on one each day of the week, and then return to the beginning of the list.
And this is the confidence that we have toward Him, that if we ask anything according to His will He hears us. And if we know that He hears us in whatever we ask, we know that we have the requests that we have asked of Him. - 1 John 5:14-15
Pray with confidence when you know you ask anything according to His will. All of His promises are according to His will. All of His commandments are according to His will. Anything He asks you to do is according to His will.
If you are unsure if something is "according to His will" simply ask Him. Listen to what He says. Do not interrupt Him or argue, but pay attention. When you know His will, pray with confidence.
Now to Him who is able to do far more abundantly than all that we ask or think, according to the power at work within us, to Him be glory in the church and in Christ Jesus throughout all generations, forever and ever. Amen. - Ephesians 3:20-21
Give yourself permission to ask for more. Many people pray for the least amount, as if they are putting God out for making a request. Others limit their prayers because they have a limited view of the power of God. This verse says He is able to do far more abundantly than all you can ask or imagine.
Go ahead. Push it. Take a little time to hope and dream and try to out-imagine the power of God. Let Him know your wildest ideas. Ask Him to be extravagant in funding your calling, or providing your resources, or opening doors for loving one another. Go way out on a limb.
I believe this kind of prayer prepares you to receive His blessings. He is looking for ways to show His power through your work for the glory of the church and Christ Jesus. Ask big.
Whatever you ask in My name, this I will do, that the Father may be glorified in the Son. If you ask Me anything in My name, I will do it. - John 14:13-14
Pray in the name of Jesus. This is not a mantra or magic word, but a way of recognizing the true nature of Jesus. When you pray, make sure it is with the full agreement and authority of the Son of God. In other words, you may ask for anything Jesus wants to do on earth.
The power of this prayer is found in the promise: "I will do it." The purpose of this prayer is to glorify the Father in the Son. You must die to yourself and enter into His plan to pray in His name. But then you can claim it by faith, because it is as good as done.
A friend recently mused about what he would do if he had a billion dollars. His ideas included supporting missions and ministries, feeding the poor, and helping the hurting. I asked him what he thought he could do with a billion dollars that he couldn't do with the promise of John 14:14! If it is in Jesus' nature, ask Him and He will do it.
Do not be conformed to this world, but be transformed by the renewal of your mind, that by testing you may discern what is the will of God, what is good and acceptable and perfect. - Romans 12:2
This next exercise builds on the groundwork laid by the first three: Pray big prayers with confidence because they are in His name and according to His will. But how can you know the will of God? You will discern His will by the renewal of your mind.
The risk is that our way of thinking stays in conformity with this world. The way the world thinks leads to futility. It is preoccupied with the physical realm; the things you can see, touch, and measure. It is preoccupied with self; what's in it for me. It is preoccupied with fear and judgment. That kind of thinking must be renewed.
Take your thoughts captive and make them obedient to Christ. Interrogate your emotions and actions to find the underlying belief. Then interrogate that belief and replace it with truth. As you are transformed in this way your mind will begin to think like God's mind rather than this world. You will know what He is up to, what He wants, and what He loves. In other words: what He wills.
If you abide in Me, and My words abide in you, ask whatever you wish, and it will be done for you. - John 15:7
Here is another great promise: "it will be done for you." To claim this promise you must abide. Abide means to live inside. The first condition of this promise is for you to live inside Jesus. That means to be immersed in Him. The second condition is for His words to live inside of you. His words are truth, so it is another way of saying that He will abide, or live inside, of you. That means to be merged with Him.
Practice abiding in Jesus by spending quiet time snuggled up as close to Him as you can imagine. Allow Him to embrace you with a warm hug. Consider the depth of your relationship as you lean back on Him, as John is depicted doing in da Vinci's Last Supper.
Let His words abide in you as you read the Bible, especially the gospels. Memorize key verses or phrases that come to your attention. Recite them to yourself throughout the day. Let your mind work and rework the words until they become part of you.
Finally, this verse includes two other verbs: ask and wish. Use your increased strength from the earlier exercise of praying big when you wish. Then use your increased confidence of knowing His will when you ask. You will find increased power in your prayers. Remember the promise: it will be done for you.
And He told them a parable to the effect that they ought always to pray and not lose heart. - Luke 18:1
Always pray and do not lose heart. The key to this exercise is to have laid the groundwork of knowing His promises, His will, and His authority. Then you are able to pray without losing heart. Claim the promise by faith and persist in wishing and asking.
Why would God make someone wait for an answer to prayer?
Sometimes we have to wait for the right timing. One of my prayer requests had to wait for several months because a decision had to be made by someone else. God and I were waiting. As soon as that decision was made God put forth the answer to the prayer.
Sometimes things are going on in the spiritual realm that is beyond our comprehension. This happened to Daniel when he prayed and the answer was delayed by twenty-one days (Daniel 10). Do not lose heart.
While we persist in prayer our attention becomes focused and our desires defined. Waiting and watching can build suspense. When God brings the answer it is a time of great rejoicing. Be patient, hold the faith, and prepare to praise.
Again I say to you, if two of you agree on earth about anything they ask, it will be done for them by my Father in heaven. - Matthew 18:19
Pray in community. There is great power in agreeing in prayer. This is not a way to gang up on God and force Him to act against His will. This is a way for you to join in the thoughts and prayers of a trusted adviser. You gain an extra sense of perspective. You have an extra set of spiritual ears to hear what the Lord is saying. You have a witness to the promise, prayer and understanding.
Practice
Put these principle into practice. Establish a spiritual discipline of prayer each day. Make a record of your requests and follow through on refining them as you ask and listen. Keep a testimony file of answered prayers. Discover your personal promises and claim them with confidence. Ask God big things, and discern His will. Abide with Him and you will glorify your Father in heaven just as the Son of God does.
Feel free to share with me some of your successes as you power up your prayer time.