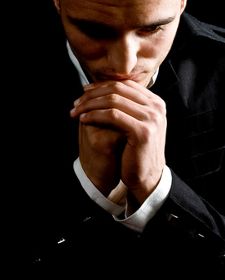 Do not be anxious about anything, but in everything by prayer and supplication with thanksgiving let your requests be made known to God. And the peace of God, which surpasses all understanding, will guard your hearts and your minds in Christ Jesus. -Philippians 4:6-7
The intercessor has the responsibility and privilege to lead prayer appointments with the guidance of the Holy Spirit. This takes a gentle hand, humble spirit, and holy confidence.
Prepare yourself for prayer ministry in all you think and do. Keep yourself in a constant state of readiness to properly handle the truth.
You can offer hope to the hopeless, be a source of faith for those that have none, and participate in the supernatural power of God to transform people. Here are a few observations to equip you for this kind of prayer appointment.
Hope
But in your hearts honor Christ the Lord as holy, always being prepared to make a defense to anyone who asks you for a reason for the hope that is in you; yet do it with gentleness and respect, -1Peter 3:15
It seems like the biggest challenge in healing prayer happens before the prayer appointment. The person that is stuck in their sin and cruel bondage may have lost hope that anything good could happen to them. It is a lie from the evil one that keeps them from seeking the truth. As long as they believe nothing can change, they will stay in their captivity.
When God had promised to release Israel from slavery in Egypt, He sent Moses to tell them the good news. But they did not listen to him because of their broken spirit and harsh slavery (Exodus 6:9). People that have been trapped in addictive behavior or suffer from captivity to fear may have a broken spirit just like the descendants of Abraham. The good news of their imminent release comes and they are unable to listen to it. They may be tempted to skip the appointment or cancel it at the last minute.
The role of the witness is to offer hope. "You may believe your situation is hopeless, but I am willing to pray with you because I know God has a hope and a future in mind for you." This is a way of inviting the person that needs prayer to come and borrow your hope if they don't have any of their own.
Protect your sense of hope at all times. Keep your mind free from judgment and condemnation about the person because those thoughts kill hope immediately. Feed your mind with the Truth of the gospel because it contains hope. Exercise unconditional love because love hopes all things (1 Corinthians 13:7).
Faith
And when Jesus saw their faith, He said to the paralytic, "Son, your sins are forgiven." – Mark 2:5
Healing, forgiveness and salvation all come by faith, and the gospels are full of examples where Jesus declared this to those that followed Him. The woman that touched the hem of His robe was healed by faith. The blind man was healed by faith. Demons were cast out by faith. The evidence is overwhelming that faith is a key ingredient in healing.
In the description of the healed paralytic quoted above, Jesus saw the faith of the sick man's friends. Similarly, the centurion's servant was healed because of the centurion's faith. Jairus' daughter was raised from the dead because he believed. These are some examples of people being healed, not by their faith but by the faith of another.
As intercessor, you may have opportunity to pray for a person that lacks the faith to be healed. Do not hold back, but pray according to your faith. The one being healed will experience increased faith after the fact.
And whatever you ask in prayer, you will receive, if you have faith. – Matthew 21:22
Faith is knowing the truth and believing it to be true no matter what. Protect your faith at all times. Remind yourself of God's faithfulness as recorded in Scripture. Remind yourself of His faithfulness as you have personally experienced it. Ask other faithful friends to share their examples of God's faithfulness. Your faith will grow as you consider and reconsider God's character, and then you will be able to share it with others.
Confirmation
And you will know the truth, and the truth will set you free. -John 8:32
The truth comes from God, and when a person hears it from Him it is received in their heart. This is the truth that sets them free and heals them. Sometimes a person expresses frustration because they "know" the truth but it does not have a transformational effect on them. This is the case when they know it in their mind, but it is not received in their heart. Hearing it directly from God overcomes that gap between head and heart.
As intercessor you may ask God to reveal His truth to the person and then wait and listen for His response. After some time, you may want to ask the person what has come into their mind. It may be a memory, strong emotion, word, vision, or new thought. Everyone can hear from God, but sometimes the person lacks confidence in their ability to hear. By asking the question, you are inviting them to share what they are recognizing, whether they understand it or not.
Frequently the person receiving prayer will pass off a thought or memory by saying something like: "I haven't thought of this in years," or "I don't know if this means anything, but …" They lack the confidence or experience of knowing that they have just heard from the Lord.
The intercessor relies on the Holy Spirit to guide the conversation. The truth comes from God and has specific meaning to the person. Confirming that it is an answer to prayer, and then allowing the person to consider God's truth is an important way to share faith and hope.
Protect your ability to confirm the message of God to the person receiving prayer. Ask them why God would call this memory or word to their mind, or interrogate the thoughts triggered by the strong emotion. God is personal, intentional and responsive. Invite Him to continue to reveal truth. Do not take responsibility for delivering truth to the person, that is past your pay grade and will cause anxiousness. Ask the Holy Spirit for guidance and then speak with confidence according to His direction.
Witness
The Spirit himself bears witness with our spirit that we are children of God. - Romans 8:16
The witness vouches for the truth. As an intercessor you may need to act as a witness for the benefit of the person receiving prayer. That means to stand up for them, especially under cross-examination. There is an accuser that is busy day and night accusing and condemning people (Revelation 12:10). When that liar tries to interrupt the flow of information or destroy the truth before it is received, the witness must stand up for the person receiving prayer and refute the accuser in the name of the Lord.
There may also be times when the witness must stand up for the person against their self-judgment. If they believe they are shameful, guilty, unlovable, or worthless then the witness must speak from God's perspective. Protect your ability to stand as witness for the person by keeping guard over your own prejudice and condemnation against them. Be careful not to side with the accuser, but to stand on the side of Truth.
As an intercessor you may need to act as a witness for God. This can happen when the person receiving prayer has a faulty view of God. Their understanding may have been skewed by bad experiences resulting in an improper interpretation, such as blaming God for something bad that has happened in their life. As a witness of the truth, you will stand up for God's character.
"That's not the God I know and trust," you might say in response to their allegation. Then continue by sharing how you have come to know the truth about God. You are an eyewitness to your personal interaction with God. You can be an expert witness to your understanding of God as revealed in nature and Scripture. Protect your understanding of God so you are always ready to give a response in His support.
Finally, the intercessor acts as a witness to the event. When a person receives truth, it renews their mind. Though they are transformed at the time, the cares and worries of the world may choke out the truth and they fall back into their old patterns of thinking and living. The accuser tells them that it was not real healing, that it could not last, and a host of other lies. It is possible for them to lose their healing.
"I was there when God spoke truth into your heart. I saw the transformation happen right before my eyes. You told me how it felt to be changed when we prayed. It is a real as I am, and I stand as a witness." These are some ways to take the stand against the accuser and establish the historical accuracy of the healing, because when the Son sets you free, you are free indeed.
Protect your status as a witness when you offer intercessory prayer. Know the truth and proclaim it. Confess it out loud and make yourself available to share your experience with the one who has been healed.
Testimony
The role of witness extends to giving testimony, which means to share about what happened with any interested party. We give testimony as we give praise to God in prayer. This begins immediately. We give testimony when we confirm the truth and transformation that we see in the person.
The intercessor is bound by the agreements made to create a safe environment for prayer. This means that the details of the story, the past and present condition of the person receiving prayer, and the words of truth given by God all belong to the person, not the intercessor. The intercessor can only share the story with specific permission from the one that has been healed. This is a core value that must not be violated.
When we first began praying with people for healing we were concerned that our confidentiality agreement would preclude us from ever being able to share the good news of God's healing power. At first this seemed true because people came in terrible condition, combined with deep feelings of unworthiness, shame and guilt. They did not want their story told. They hid the truth of their condition, sometimes even from themselves.
But when people are healed, they are free indeed. It became one of the diagnostic tools we use to determine the level of healing. What was once a source of shame and guilt has been redeemed. It has become a testimony to God's mercy and love. The new condition of the person is peace and joy, and to share the details of God's power and truth is completely natural. When asked if we can share their story, the healed person declares boldly and happily: "Yes! If it can bring hope and encouragement to just one other person then tell them. God can heal them, just like He healed me!"