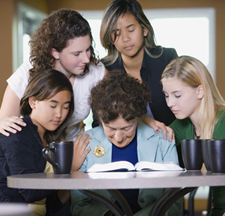 I pray that the eyes of your heart may be enlightened, so that you will know what is the hope of His calling, what are the riches of the glory of His inheritance in the saints. – Ephesians 1:18
True hope for healing comes from understanding the inheritance we have as believers. When God forgives, it is a spiritual transaction that makes a person a new creation. This is a conversion from an old identity to a new one that is reconciled with God.
Conversion, or change, happens in the physical, emotional and spiritual realms. We call it "healing" when that change transforms someone to a better position or condition.
As is written in this verse, we pray that the eyes of your heart will be enlightened to know the hope of His calling. It is our mission to share the reason for the hope we have, and our desire is to see an army of prayer warriors join in this effort.
Healing Prayer
At Master's Mind Ministry, nearly half of our time is spent in prayer appointments with individuals. These one on one sessions begin with a focus on the conflict or pain that brought the person to seek truth. Then we quickly move to prayer, asking God to reveal His truth to the person so they can be transformed. It is very rewarding to participate in God's healing work and to act as a witness.
In the book of Ephesians the "hope of His calling" is described as "the riches of the glory of His inheritance in the saints." It promises that now, and in the future, the power of God will make the changes in you that are necessary for righteousness.
On a practical note, healing takes place before our eyes. People with chronic fear and anxiety suddenly experience peace. Some with addictions are immediately free from them. Others with uncontrollable outbursts of anger become sincerely loving and patient. Couples begin to pray together and marriages are healed. Physically and emotionally, people are freed from bondage. Curses are broken and blessings take their place; a poverty mentality is replaced with gratitude and extravagant generosity.
It is a glorious testimony to the merciful love and awesome power of God.
The problem is that we are constrained by time and space. It takes time to meet with individuals and there are a limited number of people we can see on a daily basis. Our facilities are convenient to people in the southern part of Washington and northern part of Oregon, but what about those beyond our practical reach?
We want to see an army of prayer warriors all over the world that confidently intercede for others.
Planting the Seed
Let us not become weary in doing good, for at the proper time we will reap a harvest if we do not give up. Therefore, as we have opportunity, let us do good to all people, especially to those who belong to the household of faith. – Galatians 6:9-10
We have the desire to replicate this ministry of transformation into other faith communities. God has apportioned gifts for the building up of the body wherever there is a household of faith (Ephesians 4:11-13). He is looking for willingness to equip the saints for the work of ministry.
Our model is to spend two to four days in a willing household of faith to plant a seed of ministry.
Teaching: There are basic tenets and concepts that are helpful for understanding how to operate effectively in healing prayer ministry.
First, when the current identity of a person is in conflict with their true identity (established by God's design) there will be pain. We teach a person how to follow the path of pain to identify the conflict.
Second, a person needs to reconcile their identity with God. We teach them how forgiveness is a spiritual transaction necessary for conversion.
Third, a person needs to renew their mind with truth from God. We teach them how to hear from God by asking, listening and obeying.
Finally, we teach a person how to offer a testimony about their healing because on the testimony of two or more witnesses a matter will be made known.
Healing and miracles are supernatural because they come through the power of God. We have found that this amazement factor sometimes intimidates people who should be volunteering for this ministry. Our teaching is designed to build confidence in God rather than self. It really is not that hard to watch God do miracles.
Training: The vital information delivered through good teaching must become practical for the student to be equipped for ministry. Knowledge must be translated into skills and abilities.
We activate the information by working through the principles in small group exercises. Each attendee will have opportunity to learn how to hear from God, and then practice it so they can experience it. Each will work through being forgiven and forgiving others so they can confidently lead others through the same process. They will practice renewing their mind and telling their story.
In addition to the exercises, time is devoted to real time ministry in a safe environment. The lessons learned and challenges discovered are processed in question and answer sessions. The objective is to encourage and equip the student so they can confidently intercede with others.
Ongoing mentoring relationships are established with prayer ministry leaders in a household of faith.
Touching: One on one appointments are set with as many individuals as possible in the time available.
The most powerful testimonies to a faith community are those that come from their own members. The evidence is compelling when they see the transformation and are able to compare it to what they knew about that person before. The evidence is lasting when the members are reminded on a regular basis and they see that the change is permanent.
The best recruits for the army of prayer warriors are those that have experienced the power of God in their own life. As it says in 2 Corinthians 1:4, these are the ones that will be able to minister to those that suffer in the same areas.
Your Community
Behold, I will bring to it health and healing, and I will heal them; and I will reveal to them an abundance of peace and truth. – Jeremiah 33:6
God desires to bring health and healing to your faith community because it is the Body of Christ. This passage in Jeremiah proclaims the intent of God to heal, forgive, and prosper. It is spoken of Judah, but it applies to all the called and chosen ones of God.
Would you like to see this promise fulfilled in your household of faith? Ask God to bring His healing and truth to your group. You will "be transformed by the renewing of your mind" on an individual and corporate level. It will bring an abundance of peace and truth.
Then He said to His disciples, "The harvest is plentiful but the workers are few. Ask the Lord of the harvest, therefore, to send out workers into His harvest field." – Matthew 9:37-38
Consider whether Master's Mind Ministry has a role to play in equipping your community. There is no shortage of need for healing prayer ministry, and we would be pleased to help the Lord of the harvest send out workers.